By popular demand, I'm writing a review for my 3 week old laptop. More than a few have asked me for the reasons I purchased this notebook, considering its price and the fact that this is already a one year old model with its successor already on the market.
A little bit of intro first. The T410 was released by Lenovo around the time of the
Consumer Electronic Showcase
(CES) in January 2010. The Thinkpad product line itself was formerly under the auspices of IBM before its entire PC division was bought over by Chinese-based Lenovo in 2005.
Despite the change in mothership, the IBM design heritage still resonates strongly in the Thinkpad/Thinkcentre product lines. Black, boxy design and red Trackpoint still remains. Even the BIOS power-on self tests still contains the IBM name.
Before I get on with the rest of the review, let me state the specifications and the upgrades I have done already.
--------------------------------------------------
ThinkPad T410 (2537-RZ5)
$2299
Intel Core
i5-540M
Processor (2.53GHz, 3MB smart cache, 1066MHz FSB)
14.1 WXGA TFT+, w/ LED Backlight 1440x900 , WWAN antenna
NVIDIA Quadro
NVS 3100m
Graphics 256MB DDR3 with AMT (No Optimus)
Conexant 20585 Smart Audio HD
Nanya 2 GB PC3-8500 DDR3
Seagate 500 GB HDD 7200rpm (ST9500420AS)
DVD Recordable 8x Max Dual Layer, Ultrabay Slim SATA
Intel Centrino Advanced-N 6200 (2X2 AGN)
Bluetooth
2.0MP Camera
UltraNav (TrackPoint and TouchPad)
6 cell Li-Ion Battery
Windows 7 Professional x64
3 Years International Carry-in Warranty (local onsite)
+9 Cell battery for $159
Upgrades already done
Added Kingston 4GB PC3-10700 DDR3 (current total = 6GB) $60
Intel X.25M G2 SSD replacing DVDRW in Ultrabay $548
Future upgrade roadmap
Gobi 2000 WWAN 3G + AGPS in PCIe slot
Replace 2GB stick with 4GB bringing total to 8GB
--------------------------------------------------
First looks
(Feel free to click on the images to get a clearer view)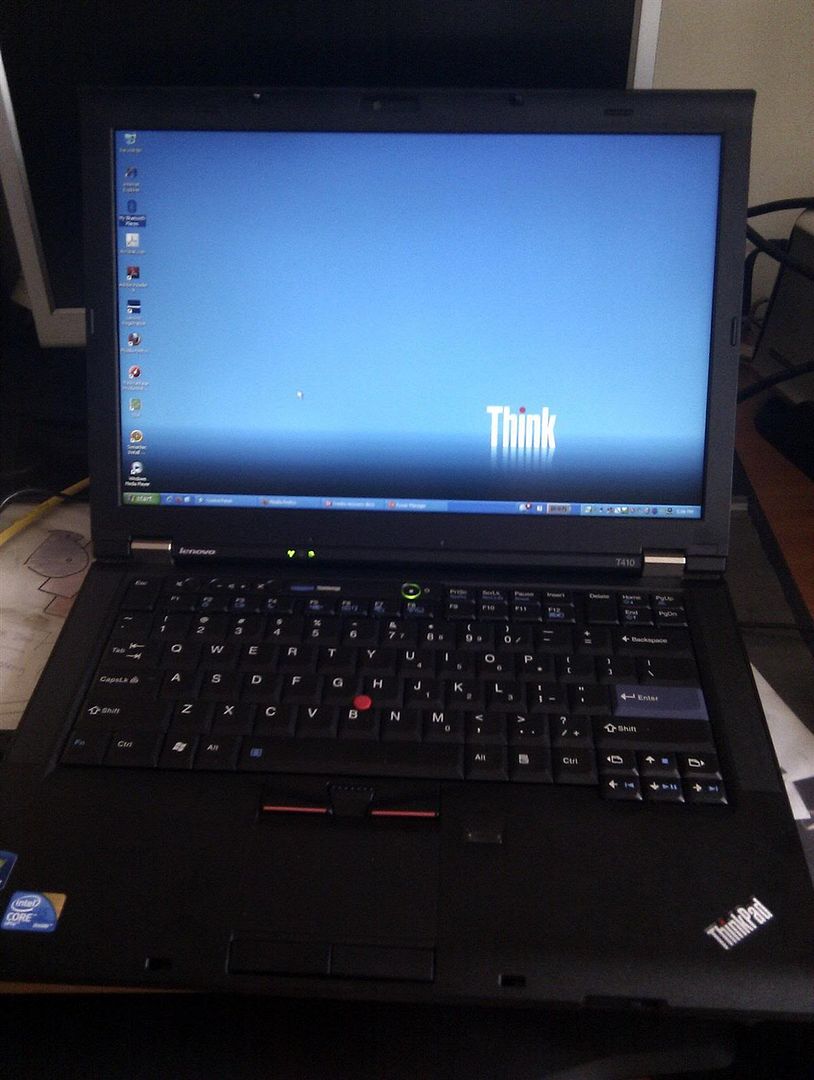 The primary reason I'm getting this old model is because of its 16:10 screen aspect ratio, sporting a resolution of 1440x900. Aside from this and the equally old Dell Latitude E6410, I can't think of any other model on the market with this screen type. Most are 16x9 with 1366x768 pixels these days.
Why you may ask? Vertical height is the answer. 16x10 means less scrolling when reading numerous web or code pages. To match the 900 vertical pixels, one can get the 1600x900 but on a 14 inch screen, that kind of
dot pitch
makes any text unreadabily small.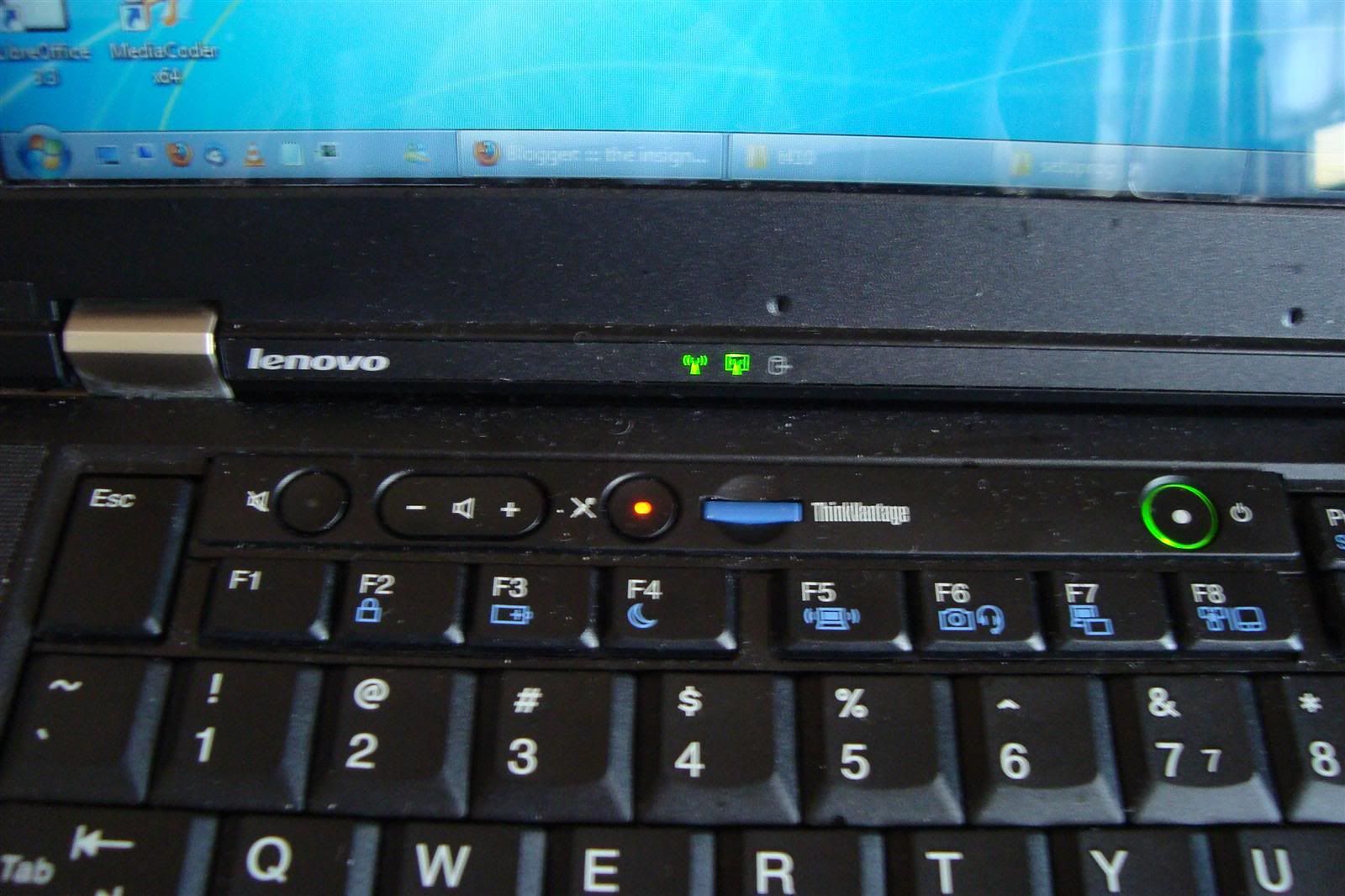 Only Wifi, Bluetooth and HDD indicator lights??? A huge reduction in number of indicator lights compared to the past. The rest like battery and Sleep are at the back. I really miss NUM lock. CAPS lock light is on the CAPS lock button itself. Mute and Microphone lights are also available.
The thick metal screen hinges on Thinkpads have been known to be very reliable. Lets see years down the road.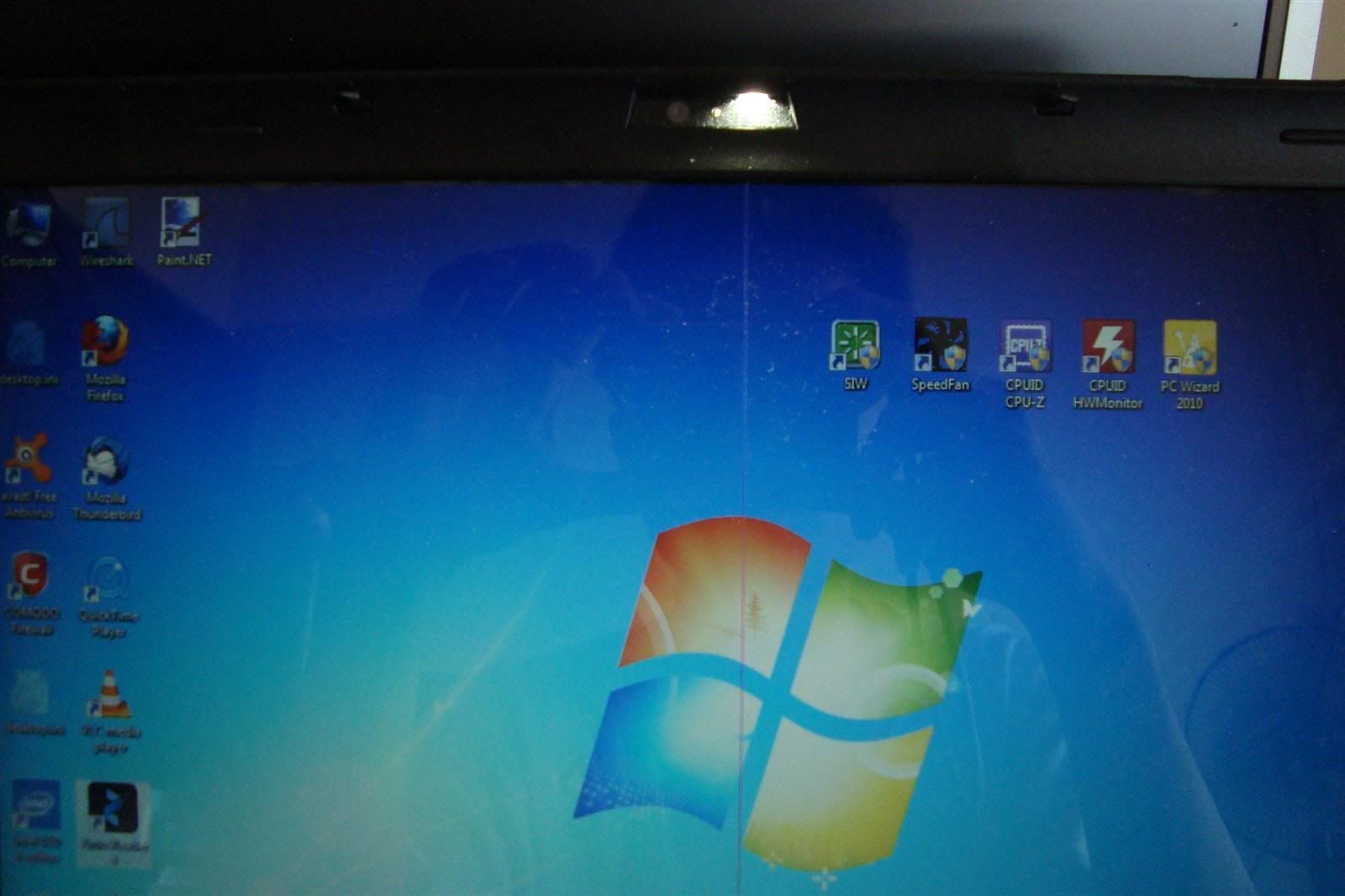 The trademark Thinklight above the LCD. This is activated by a keyboard combination. I still prefer the button-flipout style of the
Night Lights
on HP Elitebooks though. When its dark, one still has to feel for the keyboard combination.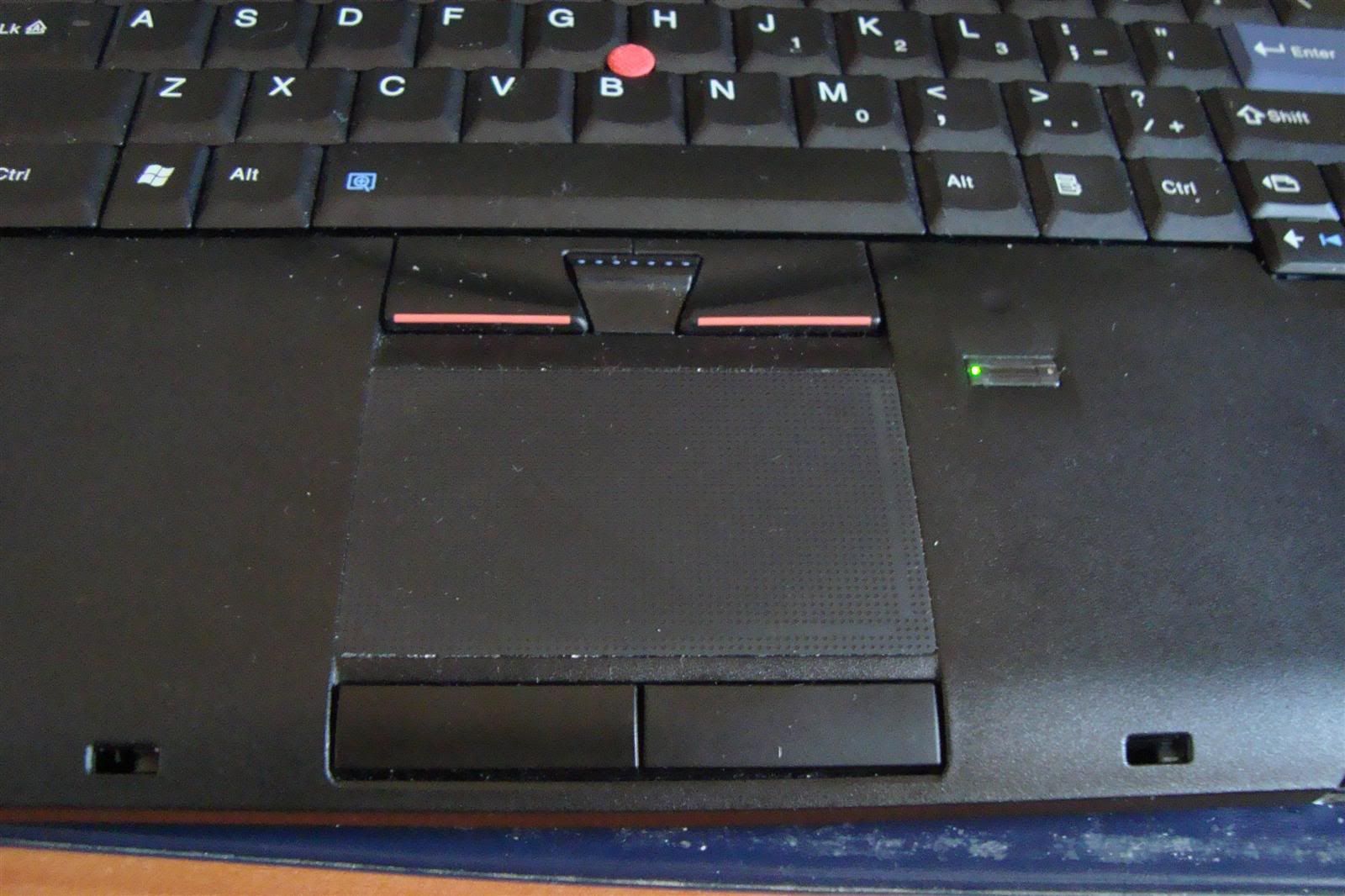 The Synaptic textured touchpad ensures good grip even if you have greasy hands. On the right is the fingerprint reader on "ready to scan" mode. The Trackpoint (pointing stick) for those who prefer smoother movement.
No shortage of ports (on the left) here. One Gigabit LAN, 3 USB 2.0 ports and Displayport. I'll prefer HDMI since Displayport displays are quite rare. I bought a cheap adapter from Ebay to mitigate this.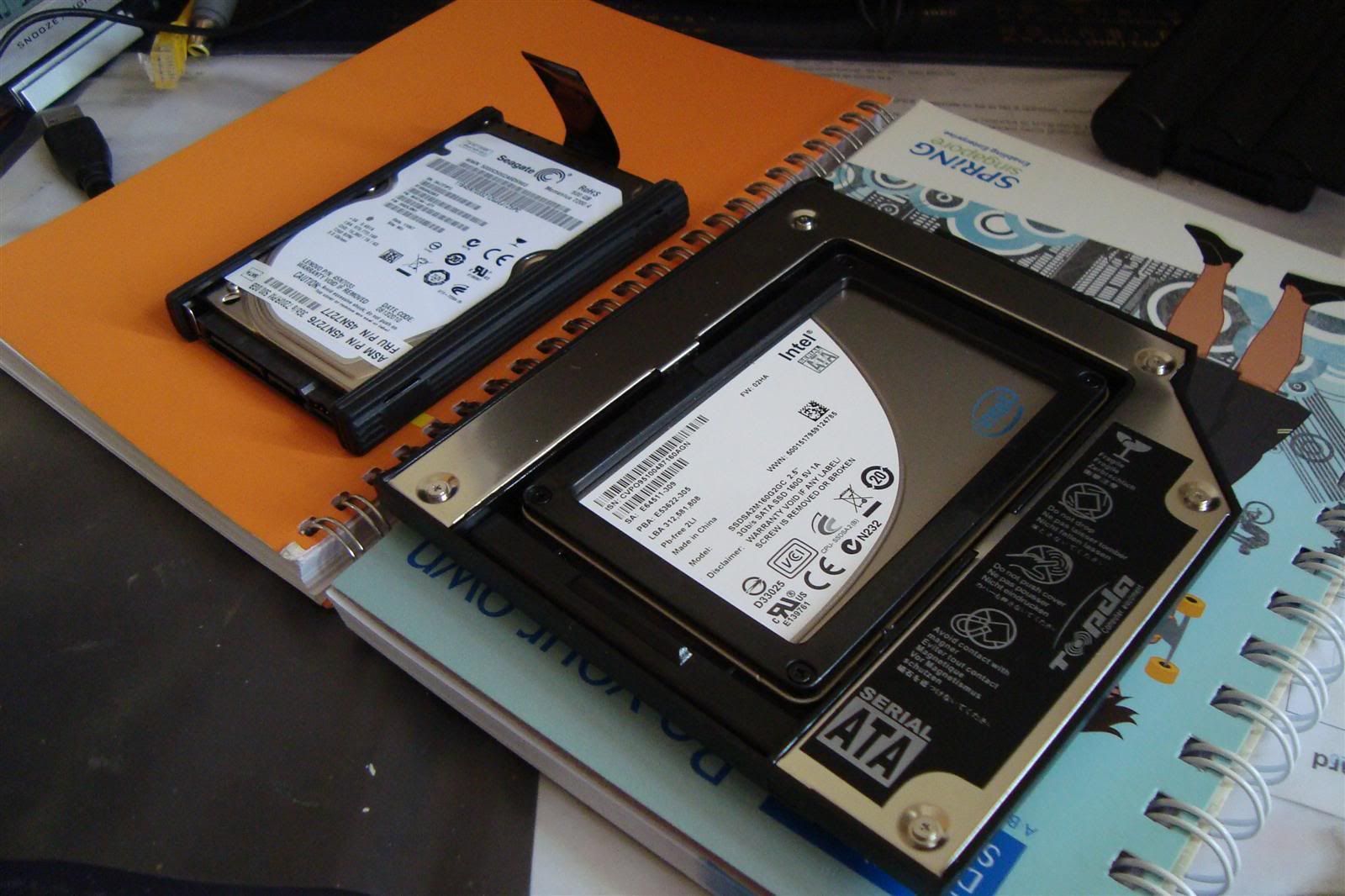 Hard disk drives, or rather, HDD and solid-state drives. The included Seagate drive is quite speedy on its own. However, one can never be fully satisfied. I took the plunge with one of the most common and value SSDs on the market, the Intel X.25M G2.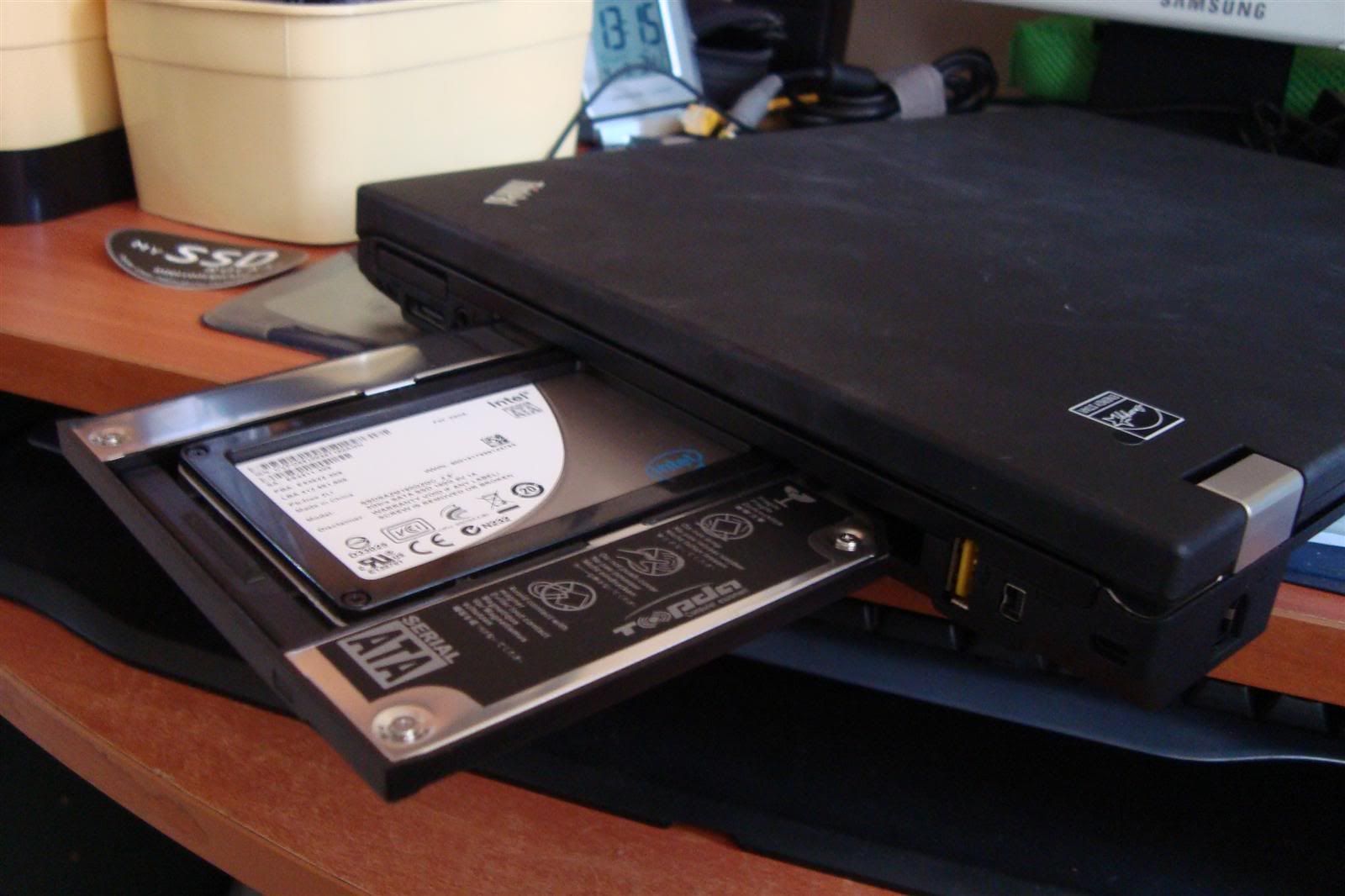 Placed in an Ultrabay HDD adapter I bought from Ebay, I inserted the SSD into the slot previously occupied by the DVDRW drive. Ports visible from this side include the E-Sata, always-on USB 2.0 port and Firewire. 34mm Expresscard slot also available.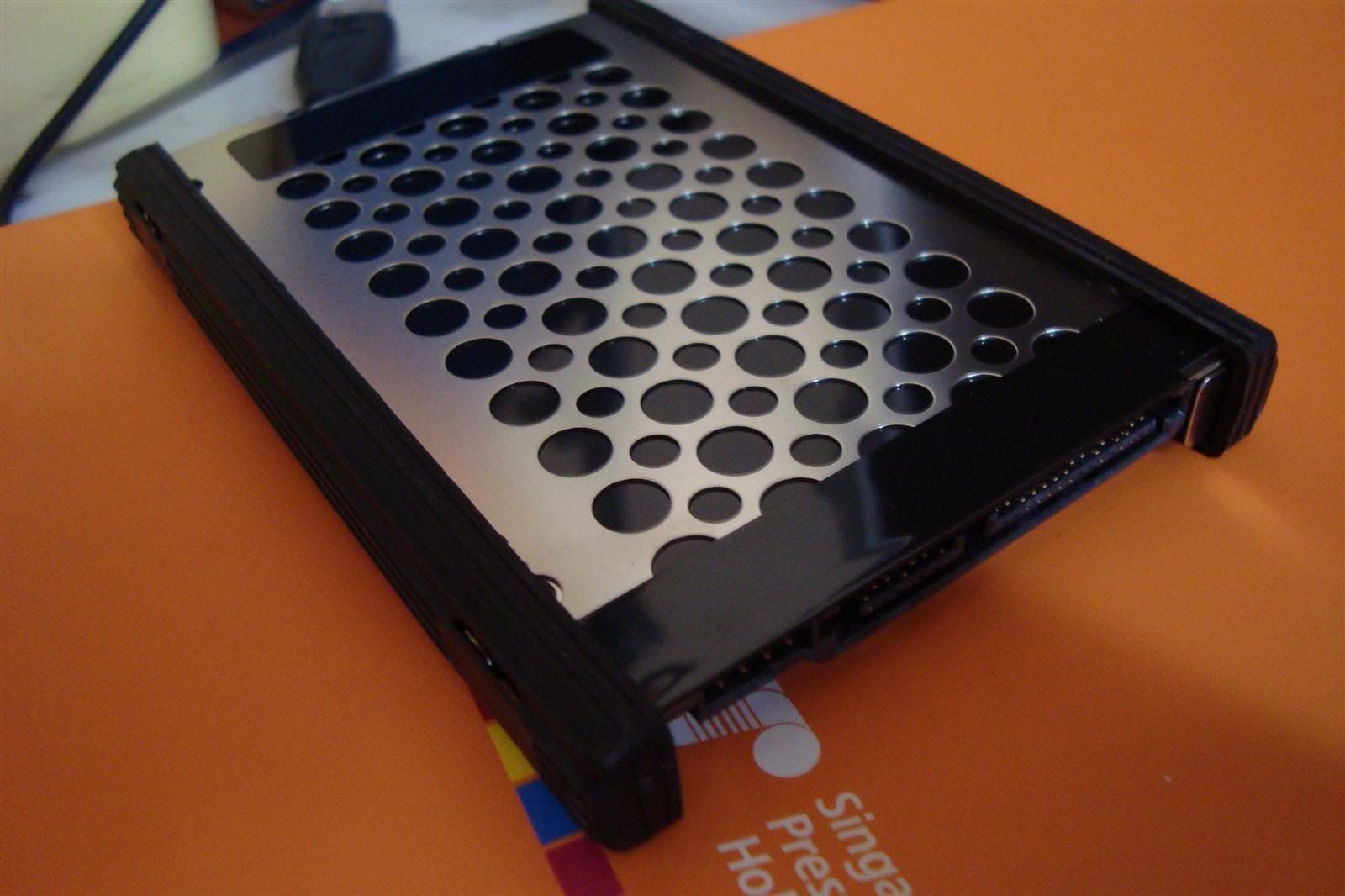 The Seagate hard drive is protected by two easily removable shock-absorbing rubber bumpers on the sides and a small rollcage to withstand compressive pressures.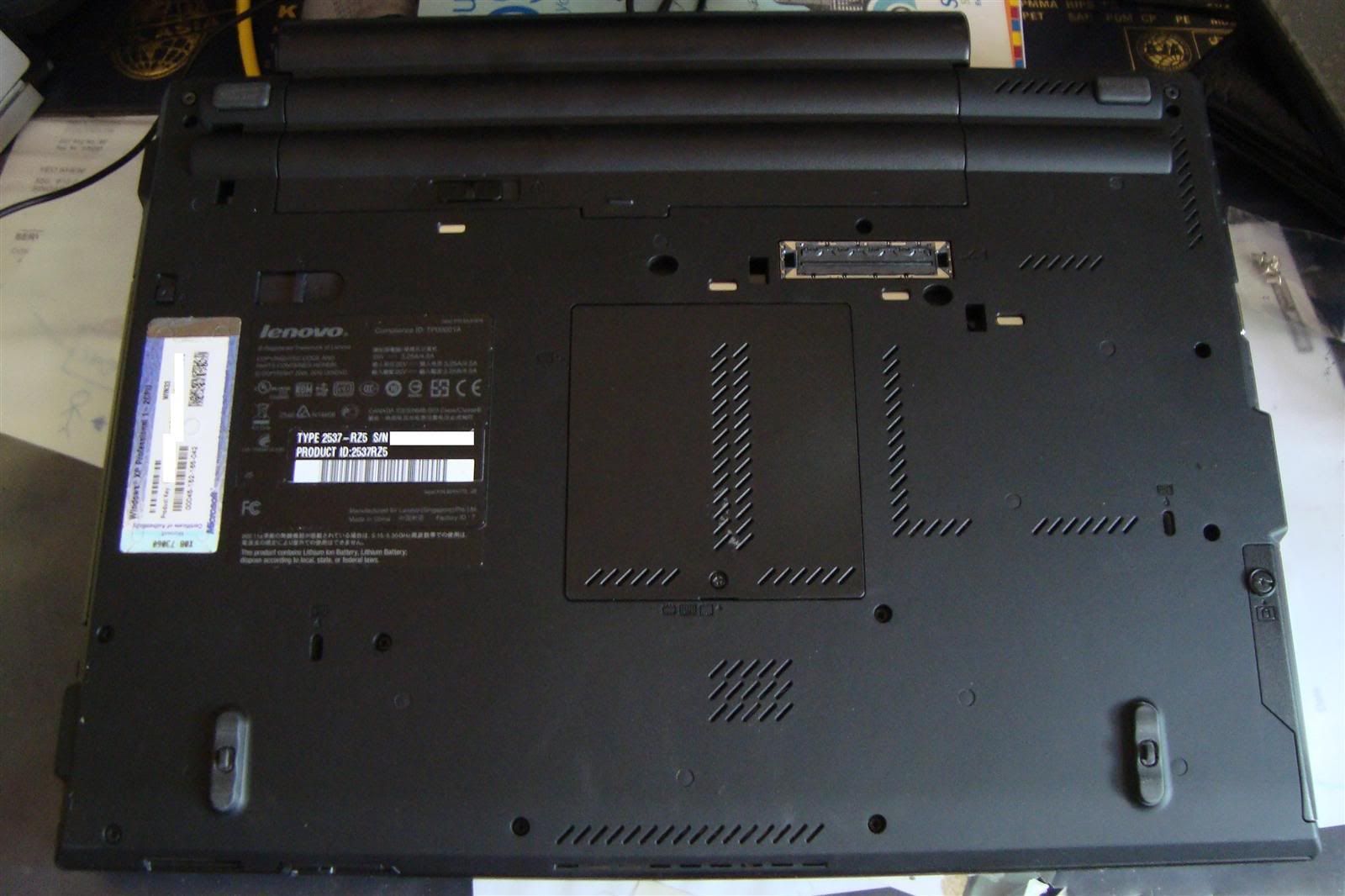 The underside of the laptop.
A small access panel at the centre provides access to one DIMM and WWAN(3G) slot. If you look closely, you can see two holes marked by a small droplet indicating drainage holes for the spill-proof keyboard. The rubber stands are one of a kind as well, built to absorb vibrations.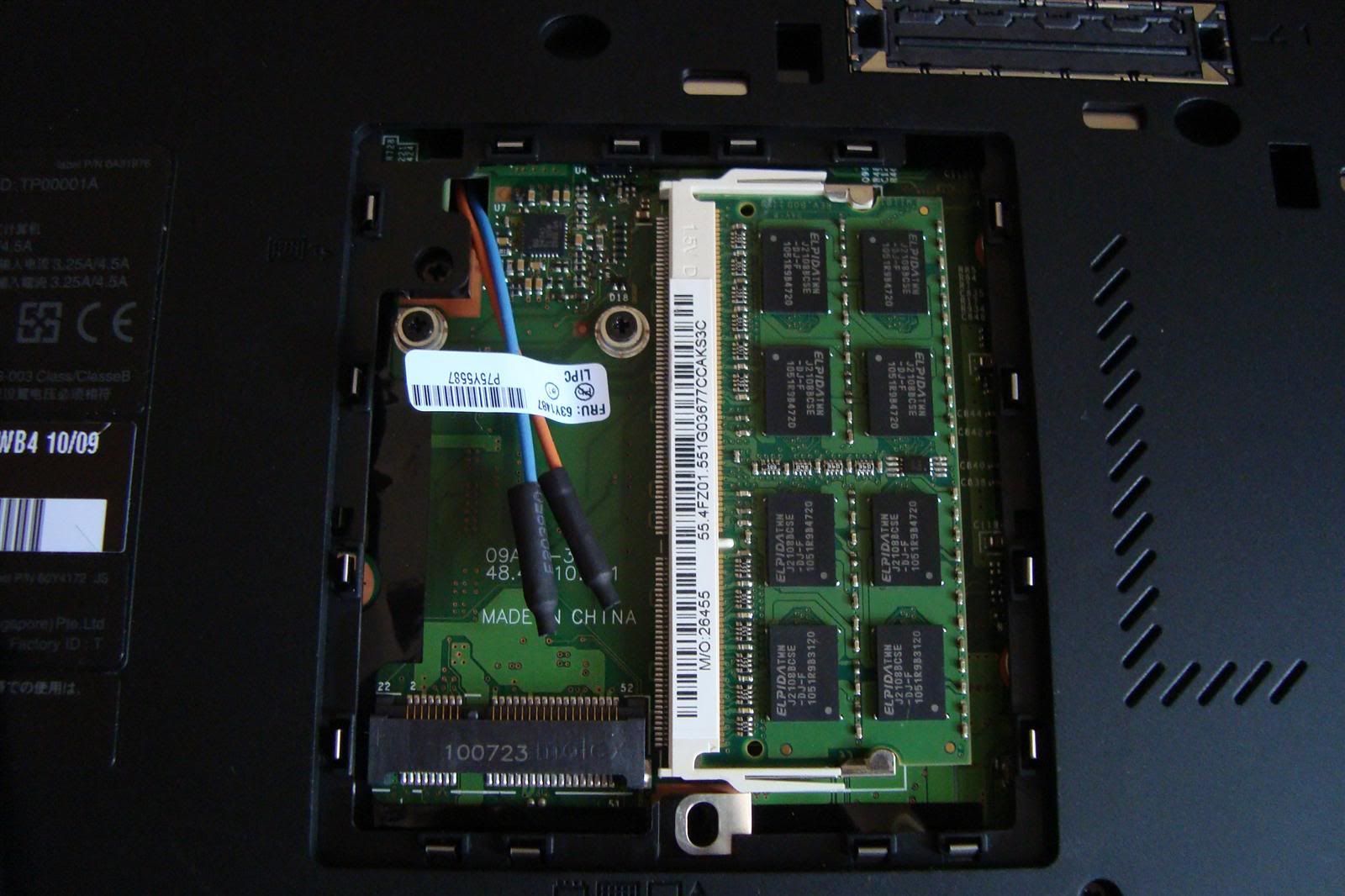 Inside the access panel.
I've filled the previously empty DIMM slot with one 4GB stick. The slot on the left contains wires to a pre-installed WWAN or 3G antennas. A Gobi 2000 for me here in the future!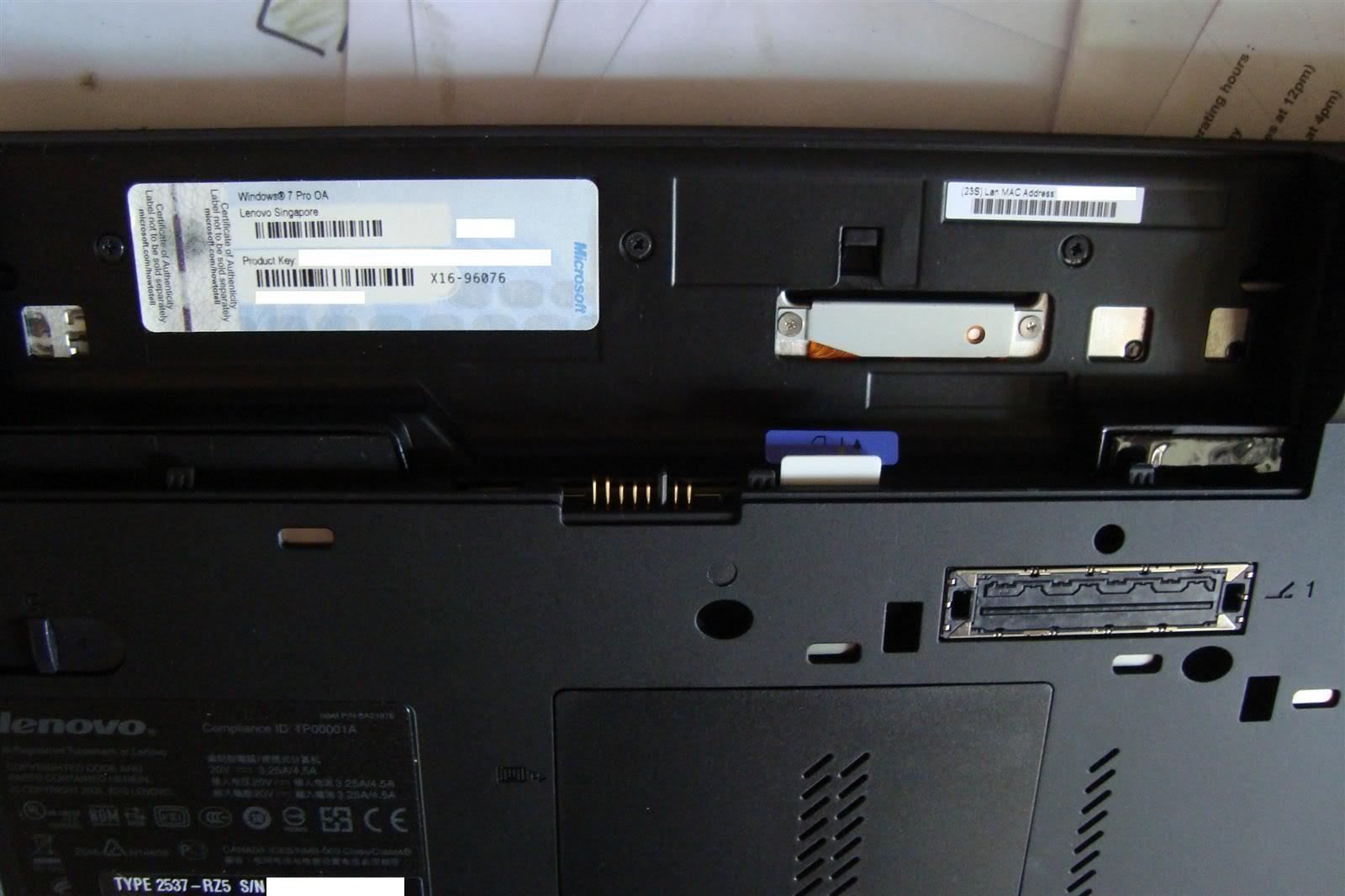 The Windows 7 Pro license sticker hidden away in the battery compartment. SIM card slot for the 3G card also in this area.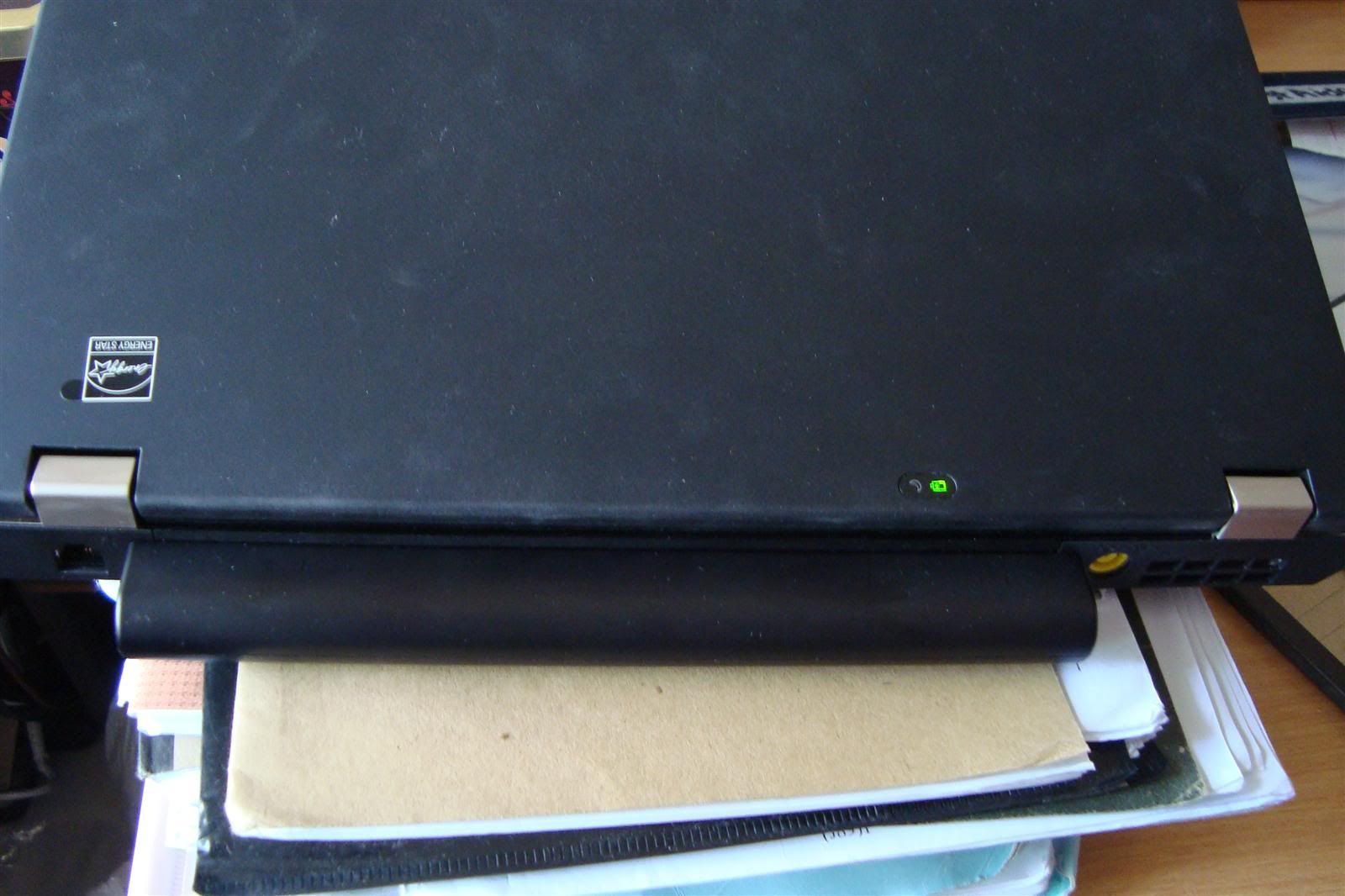 The 94Wh 9-cell battery will stick out like a sore thumb here. On the left, is a 56k modem port. I'm neutral about its presence. I tried making ordinary voice calls with it by connecting it to my phone line. It works lol!
Notice the specks of dust on the lid. And my laptop is only less than a month old! The rubbery surface provides more grip at the cost of greater magnetism to dust. The dust is also very difficult to clean of.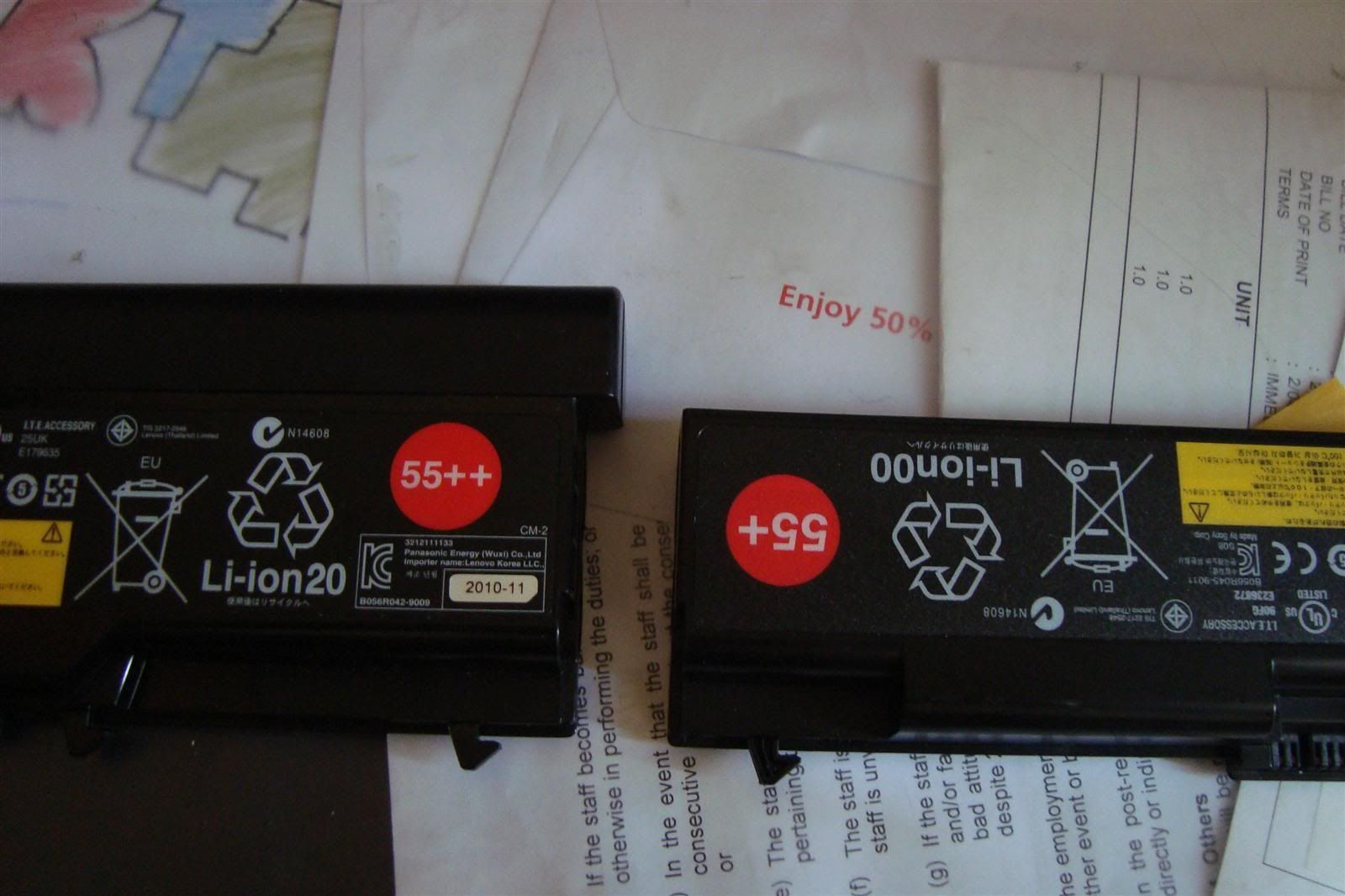 Unlike the the 9 cell battery, the 6 cell will flush with the back. I had no choice. The 6 cell battery will only run for 3hours to juice up my power hungry Nvidia card. 9 cell will give me close to 6 hours. If not for lack of Linux support for
Optimus
, I would have gotten an Optimus T410.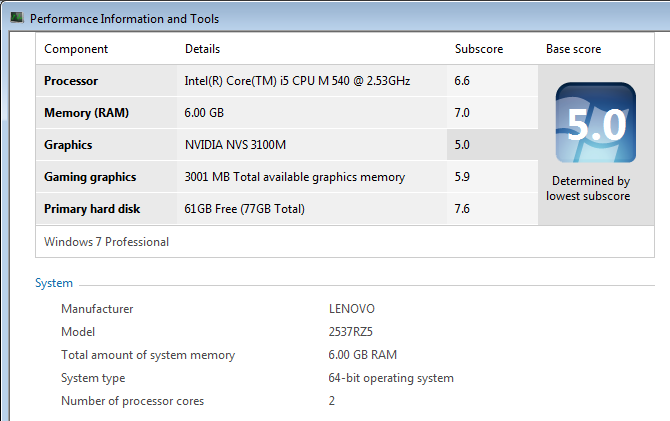 My laptop's rating on Windows 7 Experience index. Performance is relatively good with exception to graphics. Let me emphasise, my Quadro card is not designed for gaming. The graphics card hardware and drivers are optimised for stability and accuracy at the expense of performance.
The one thing I'm proud of is the 7.6 hard disk rating. This is only acheiveable with an SSD. Even the fastest magnetic HDD will only get a rating of 5.9.
Summary:
Pros:
1. Easily modifiable. Lenovo even includes full hardware maintenance manuals and videos on their website.
2. Being a business-oriented notebook, replacement parts will still be available in years to come.
3. Excellent build quality. Unless an unreasonable amount of force is applied, the keyboard does not flex. With its magnesium rollcage, its supposed to be more resistant to drops. I can't vouch for this for obvious reasons.
4. Spill reason keyboard. Ditto above.
5. Dual latch LCD
6. Included Lenovo Power Manager software helps to stretch battery life.
7. Extensive BIOS options. Important for me. No overclocking options though.
Cons:
1. Rubberised surface is a dust magnet
2. No Optimus graphics = Poor battery life (Can be easily mitigated if one gets the Optimus or switchable graphics model.
3. Displayport instead of HDMI (mitigate with adapter)
4. No USB 3.0 ports (can add USB 3.0 Expresscard)
5. Expresscard is 34mm only
6. E-SATA port is not combo with USB
7. LCD colours and contrast so-so despite the price premium
8. Microphone and headphone audio jacks are combined, not dedicated.
9. Expensive
Last words:
The successor to this model, the T420, is already out in the US market. Dunno when it will reach our shores. Its equipped with next generation Intel
Sandy Bridge
CPUs and Intel
HD 3000
integrated graphics. According to
notebookcheck
, this integrated graphics is even more powerful than my Nvidia NVS3100m with an added benefit of longer battery life.
I would advice anybody who is getting a notebook to not follow my footsteps unless you need this specific screen aspect ratio. I always encourage people to buy computers only at the last moment as prices and performance always improve down the road. For me, I can't wait any longer as this model will soon be superceded.
Labels: computers