This is the longest period I am not in camp that does not eat my leave. From booking out Thursday to booking in tonight, all to reward us for our efforts. Thats for the webcast teams. The rest got the entire this week off because they started ealier. Grr...
NDP is coming and the stress on the job is getting greater. Which each coming rehearsal, the pressure to perform and avoid costly mistakes grows. Just last Saturday, at the second last crucial moment, some town council guy removed our power plug as he thought we were using without permission. Luckily nothing happened at the actual one. So I put this free time I had to downloading and installing the release candidate for Windows 7.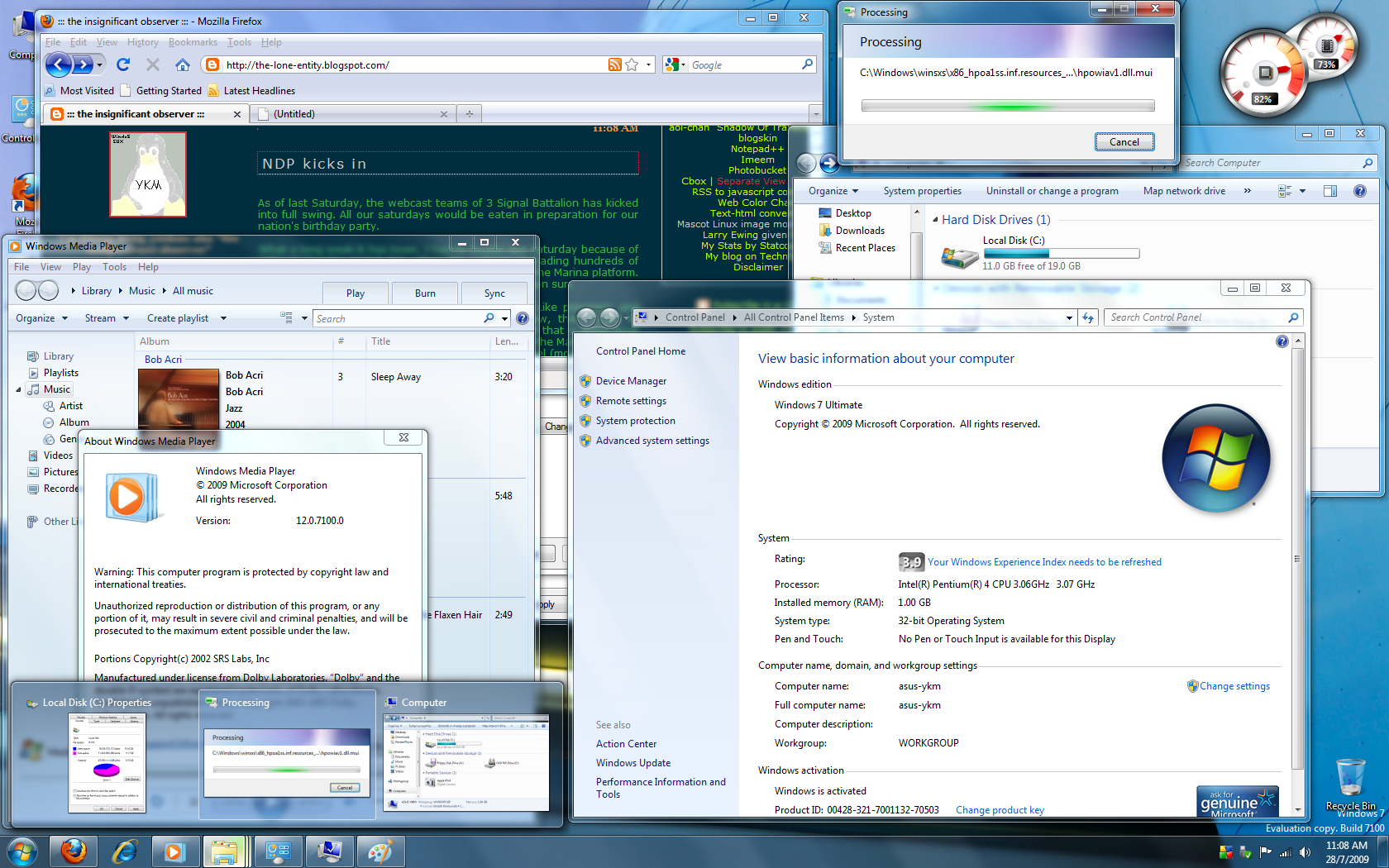 It looks like Vista on the surface. Only upon closer observation do you see the icon-only taskbar and DirectX 11 support. Other than that, most of the changes are inside the hood. The installation took me less than 40mins despite the system requirements being slightly higher than Vista. Vista installation took me more than an hour.
I don't wish to repeat wiki about
whats new
. In my opinion, this is a worthwhile upgrade although a seasoned Linux/Apple user would have detected several "plagiarised" features. The modular multi-function taskbar has been with Linux for a few years now. I disliked Vista since its inception, not for Win7. Maybe Microsoft has yet another killer-OS on its hands (anything less than 95% is not killer).
This RC is
free to download
till August 20 2009 and fully usable to March 1 2010. The retail version will be out on October 22 2009.
Minimum System Requirements
1 GHz or faster 32-bit (x86) or 64-bit (x64) processor
1 GB RAM (32-bit) / 2 GB RAM (64-bit)
16 GB available disk space (32-bit) / 20 GB (64-bit)
DirectX 9 graphics processor with WDDM 1.0 or higher driver
The disk space required is a little exaggerated. Just 7+GB will suffice. A few more GBs for drivers, virtual memory and swap files will be more than sufficient.
If you got the time, basic OS installaion skills and usable free space on your HDD, do give it a shot. You will not regret it.