I finally got the games I have been desiring for ages!
The Orange Box
! Yep, it contains Half Life 2: Episode 2 and Portal among others at a cost of $60.
This box has been out for more than a year now, and I just finally have the cash to get it. Only for my com to fail (more on that later).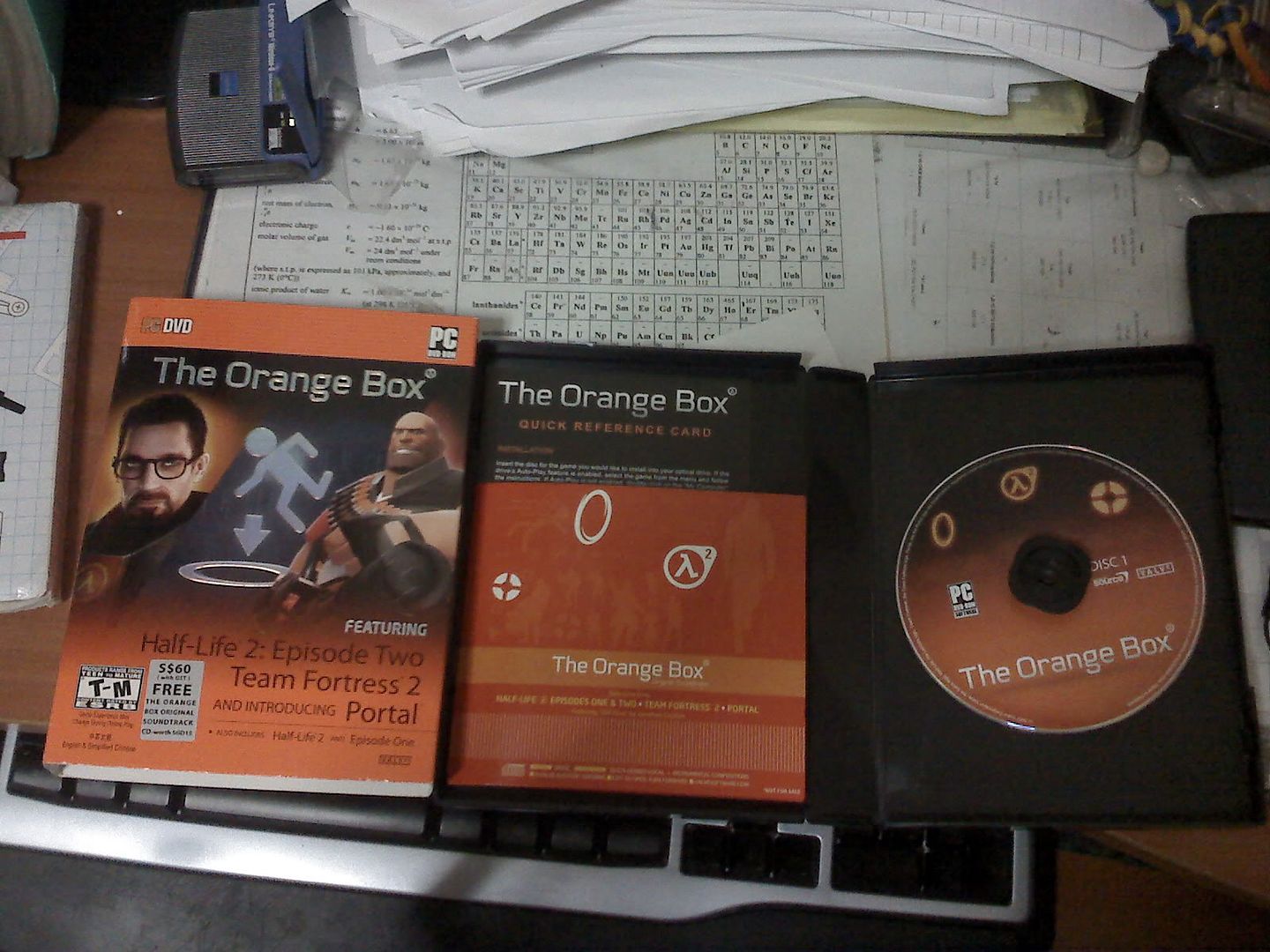 Freshly opened. It even includes a disc containing in-game soundtracks!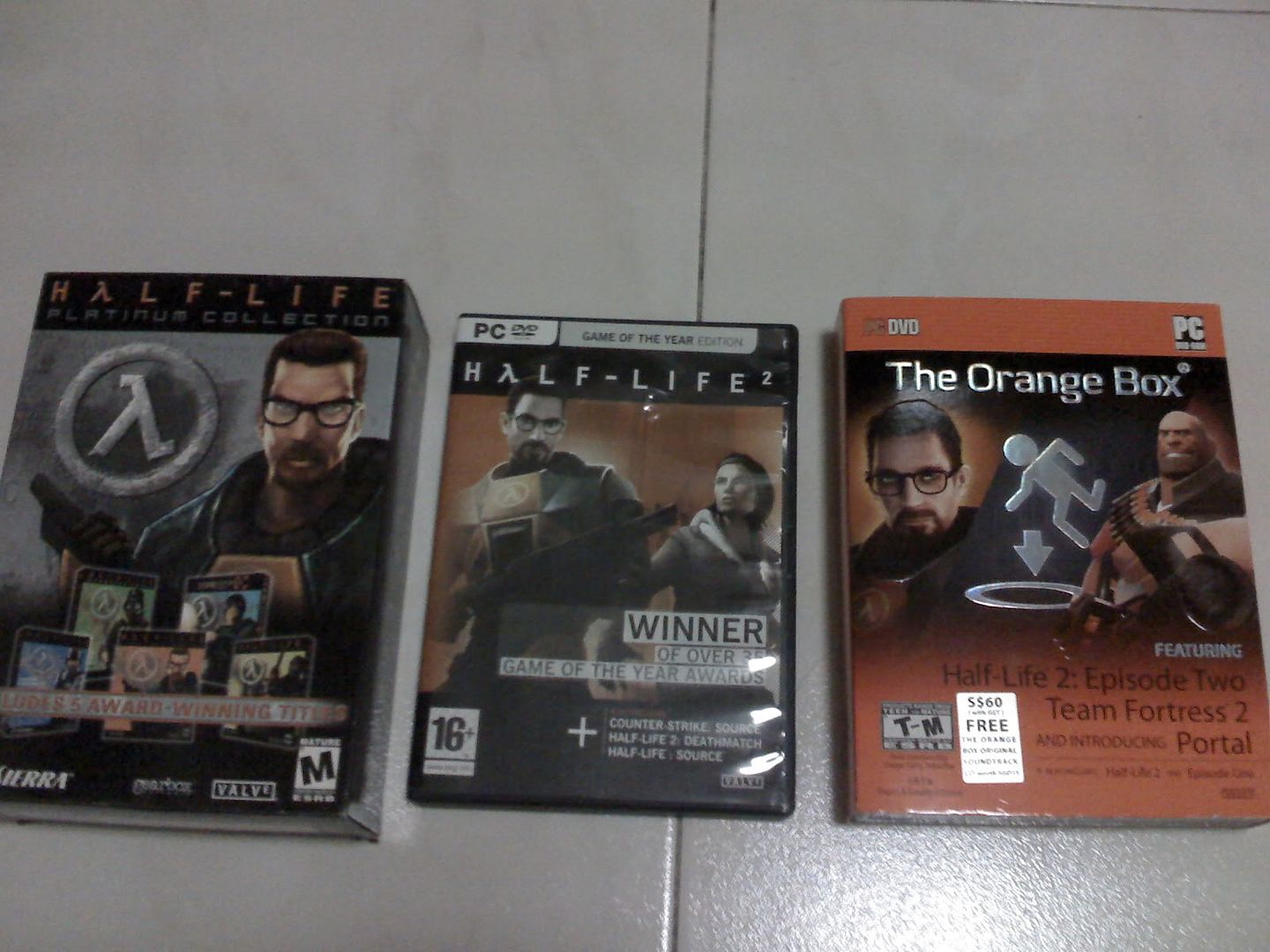 My entire collection of ORIGINAL Half-Life games. The Platinum Collection on the left contains the entire first generation Half-Life games. The Orange Box contains the entire set for the latest generation. The centre is actually a subset of the Orange Box except that it contains CS:Source too.
With so many games in a single package, its one of the most value games in the market. Not that the quality sux, its in fact the opposite, Half-Life 1 and 2 won the Game of the year awards during their releases.
If you think all possible genres of First Person Shooter games have been released, you will get a surprise when u play Portal. Its the first FPS where there are no guns, just a Portal gun to shoot Portal gates (its not even a weapon) and no mortal enemies (so far that I have encountered). A totally revolutionary form of FPS gameplay. Mr Seah has also written an
article
on it in NYConneXions. See below!
Now that I have the Orange Box,
I have an extra license each for Half Life 2 and HL2: Episode 1. Any takers?
Since I have a license of HL2 from the centre box and HL2:Ep1 from
Mr Seah
's Orange Box (which he paid $80 for), Valve legally allows me give those two games away to anyone who desires them for FREE.
--------------------------------------------------
Its so pathetic for my just almost 3 year computer Compaq
computer
to fail just two days before the end of my A' Level exams, its another to find that the minimum requirements for the game I just bought is just a weeee bit higher than the specifications of my home's next fastest computer. Yes, I'm referring to the Orange Box needing a minimum DirectX 8 level graphics card.
The 64MB Geforce4 MX 440 AGP8x card in it was only DirectX 7. To add salt to the wound, I
found out
that half of the Geforce4 lineup was DirectX8 capable, that card happens to be in the bottom half.
So I had to get a new graphics card lor. But easier said than done, AGP cards are now rare with PCI-Express (PCIE) cards being the mainstream now.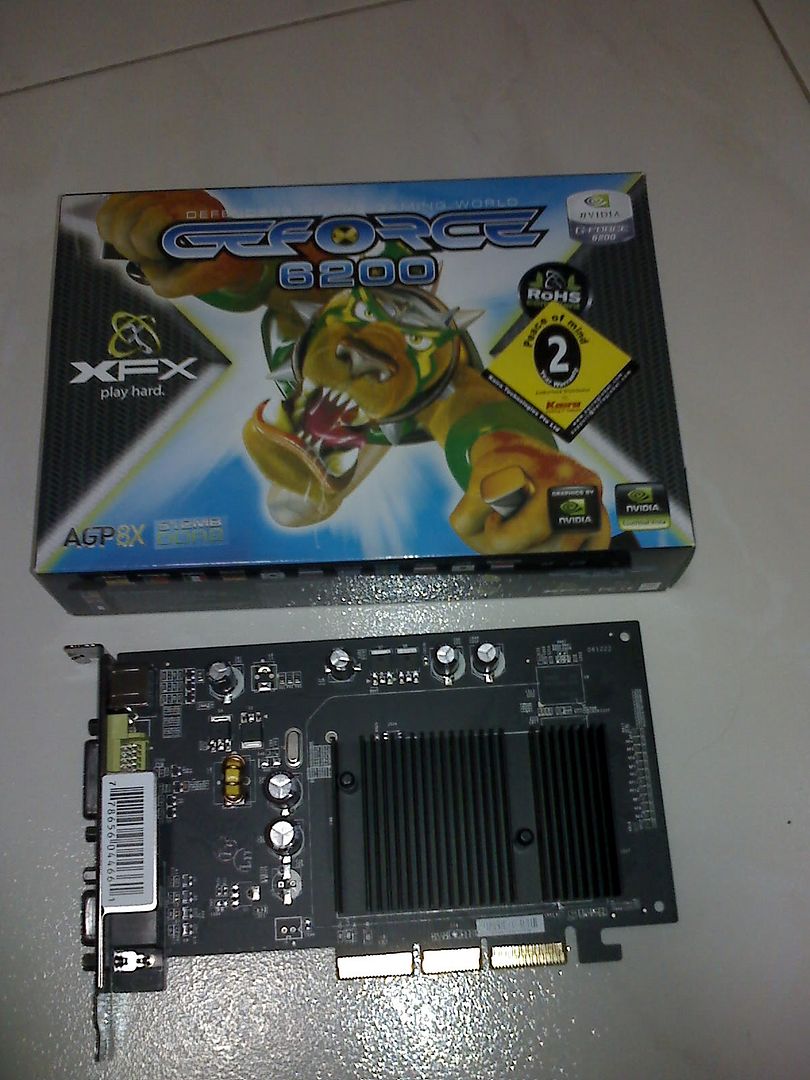 The circuit board for the 6200 is one of the cleanest and spacious I have seen for a graphics card.
I scouted Sim Lim and Sitex for affordable fixes and I had no choice but to settle for this costly $75 512MB Geforce 6200. At this price, one can easily get a PCIE Geforce 8 series card, abet the entry level low memory ones. Although this card DirectX9.0c capable, its no use, the rest of my computer specs are not up to par to play any of those games.
This brings up the graphics capabilities to nearly on par with my
previous graphics card
. It was also a Geforce6200 except that its only 64MB but it was PCI-Express. Despite the 512MB, its noticeably slowly than it, showing that the faster PCIE bandwidth overshadows more RAM.
As usual, its a classic case of paying alot for hardware to play a game which costs much less comparatively. In my case, its buying costly parts to fix an obsolete system.
--------------------------------------------------
My third date with killerzephyr on Friday. Pictures to remember it!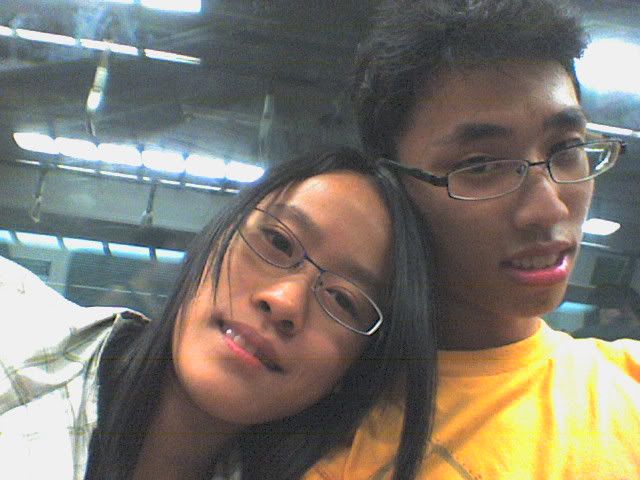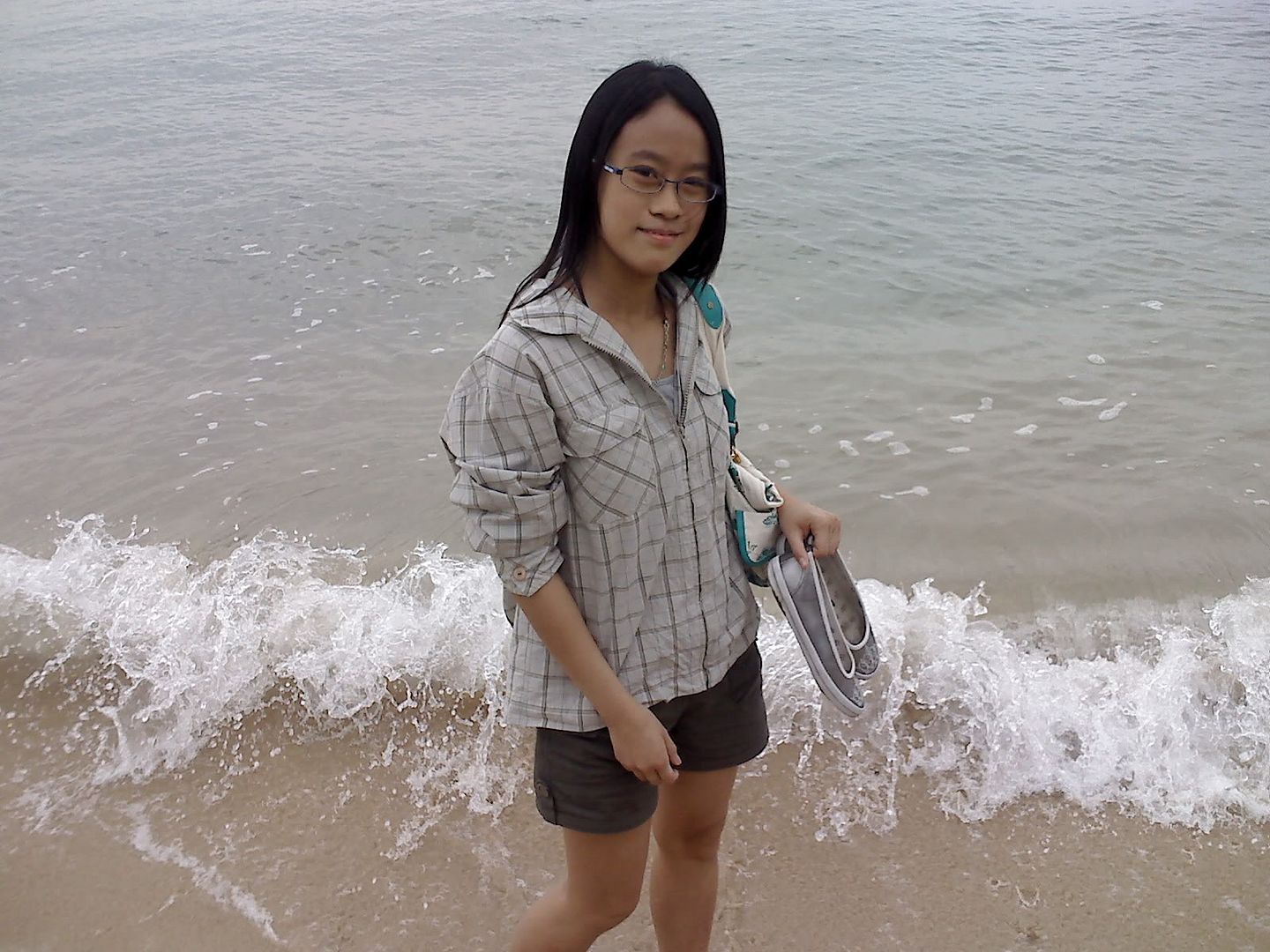 You look lovely on the beach!