Edit 1 (11/9 10.00pm): Added leaked picture of ZINE ZN12 (Successor of ZN5)
The prelims are still ongoing, but I could not resist posting a review of the Motorola's latest (and the first of the) ZINE series phone which I encountered on the net. (A past review on the first Razr series including my phone is
here
.)
After the American company's iconic
Razr V3
which pushed it to 2nd place, it has now fallen to third place behind Nokia and Samsung, in danger of being superceded by LG which is close behind.
The
ZINE ZN5
is touted by some to be the next flagship model after the V3 (for aesthetics) and V3x (for 3G connectivity) that will help Motorola regain its sagging market share. (Just a quick recap, my V3x actually won the prestigious
Best 3GSM handset
at the 2006 3GSM
Mobile World Conference
.)
(Pictures and specs taken from Motorola's
website
.)
First looks. A 118 x 50.5mm candybar form factor. The screen is a 2.4 inch 262k TFT with 240x320 pixels. Pretty standard for today's phones. Notice that the keys are flush with the surface? Thats right, no buttons, just sensors below each key. The shiny dots above each key are raised markings to help guide your fingers.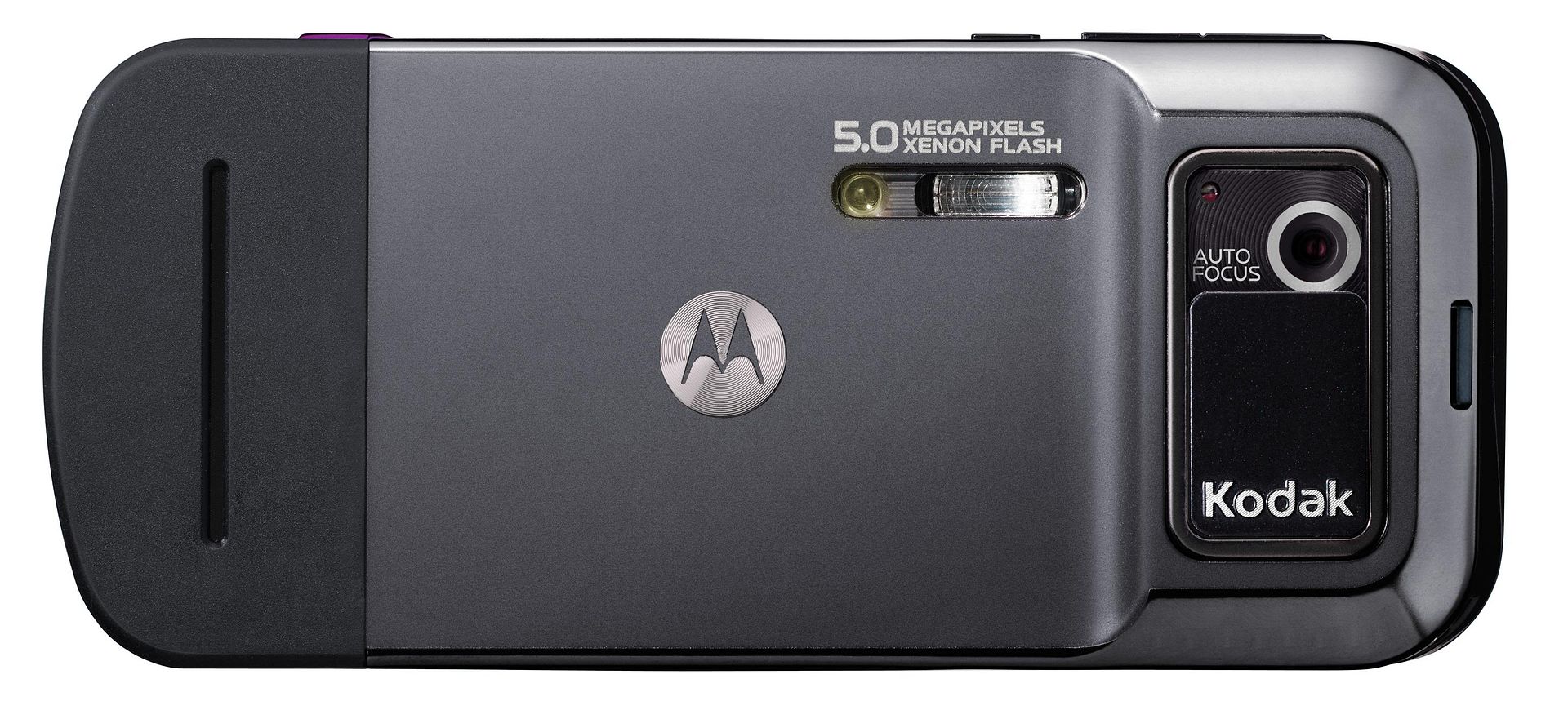 A slide-open 5 megapixel (a first for Moto) CMOS camera with Kodak imaging technology. The ZN5 is equipped with both an ultra-bright xenon flash and a video lamp. The shutter lag at 0.15s by a
CNET review
, is also the shortest of any camera phone so far. Although 5MP phones are not new this days, the superior Kodak imaging technology is what sets it apart from the rest. After all, no point having so many pixels if the image sensor and software are under-par.
Whats more, the ZN5 camera hardware has the (disabled) capability to shoot in RAW mode. If not for its software limitations, it would have been the first phone with this capability. Maybe with a future software update or hack, this can be enabled.
(
RAW
has almost always been available only on high-end DSLR cameras. This memory-hogging format allows the camera to store pictures directly from the image sensor with minimal software processing or compression.)
Review on ZN5's 5 megapixel camera (4 mins) A more detailed video review is below.

12mm slim and 16mm at the camera. It is the first 5MP camera phone in the world that is that thin! Moto certainly likes to make thin phones since its success in the RAZR series.
It has a 3.5mm audio jack and a Micro-USB 2.0 port. Though not positioned as a music phone, the ability to use your own headset is laudable. Despite only having a 350MB internal memory, the presence of an expandable
microSD
HC slot should satisfy most heavy multimedia users.
Other features like the 802.11g WiFi (finally!) really appeals to Internet-addicts. Strangely, for such a modern high end phone, it
DOES NOT
have 3G! Although the WiFi access allows the 3G to be an acceptable loss in modern environments, it is not available everywhere and video calls cannot be made which makes it a pity.
The extremely long name
Trolltech Qt for Embedded Linux 2.6.10 + Motorola MOTOMAGX-Java UI layer
open source operating system is a departure from the olden day user interfaces (UI) which have plagued previous Moto phones (like mine!). From the video below, you can tell that this phone's UI is now back on par or above other makers. No more excuses for Moto-critics!
The open source OS means that this phone should be in theory, have a very high modding potential. Not surprising considering that Motorola phones have usually been the easiest to modify. I have even
done so
to my V3x.
Full review on (prototype) ZN5's features. (8 mins) English review by Italian speaker.

Feature comparison
As expected, this phone is now a comfortable addition to my wish list (see left). It is expected to be priced at S$700 when it hits Singapore in a few month(s) time. Dream stuff... This phone is almost perfect in my eyes if not for the missing 3G and GPS functions.
The upcoming but highly secretive ZINE ZN5 successor, the ZN12 is set to embody the above with
a Symbian OS, 3.5G (HSDPA) connectivity, touchscreen and an 8MP camera
!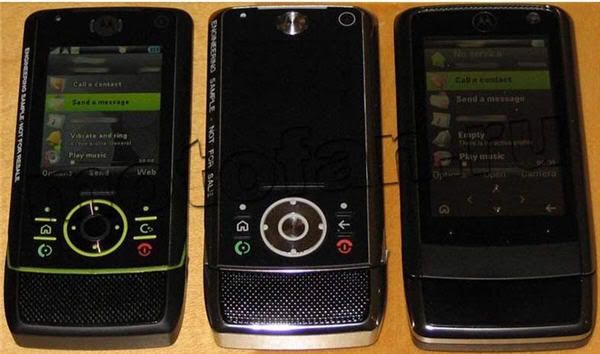 Leaked

picture of the purported ZINE ZN12 (far right). From left, Rizr Z8 and Rizr Z10. ( Rizr Z8 used to be my desired phone before it was succeeded by the current Rizr Z10)

It was supposed to succeed the Rizr Z10 but has been renamed to ZINE as Motorola wants to unify the mutimedia smartphones under a single product line. Wow! If that comes out (supposedly next year), its features would beat Apple's Iphone and many others hands down!

What now? Going back to studying for prelims of course!

For more detailed reviews, you can see

mobile-review

,

linuxdevices

and

CNET

.

Labels: Science and technology

Ok i still wonder with disbelief that there are still hard fans of Motorola. Actually come to think of it, this company has come a long way from being the first ever mobile phone brand in singapore.
Since the new century, the likes of Finnish's Nokia and Ericsson have much overfaced motorola and dominated the mobile phone market.
From my point of view, the keys are usability, design and personalizabilty. What most people really look out for are features and looks. And mobile technology, must go with the trend flow.

I wouldn't say nokia or se has better features but most of their phones have got reasonably good up-to-date basic features. Even for their lower end models. For example those with wifi. If i were to look at motorola phones, probably only those high end models have the newest features everyone's looking out for. (Well, at least for the motorola models in singapore. I've heard bout newer motorola models in countries in japan, but not yet reached our shores)
Design or looks wise. Is probably secondary to some people. But most people still go for better looking phones. Better looking or not, is then again preference. However looking at the customability of the phone. Like themes. Is actually important too. I see motorola has overlooked this fact while nokia and se has those pretty eye candy interfaces.

Software and user interfaces and usability is extremely extremely crucial. Stability of software and such. Ease and comfort of navigating. Again i wouldn't say motorola really lost out. But talk about open softwares. Compatibity of marketed softwares in terms of symbian, windows mobile and java. I believe even many java platform applications and games cannot be run on motorola models. SE's java interface although are not very customizable but still much more compatible with applications in the market. While i must say they're symbian UIQ for touch screen models are really unstable. Whereas the powerful symbian (yet not too complicated for the everyday Jane to use) and windows mobile are extremely versatile, stable yet still suitable for non mobile gurus to handle.

Saying so much, motorola seems to try catching up with the giants with that of 5megapixels and wifi. Kodak's fresh. But other than that? Not so i guess. 5mp? Just when 8mps are making their appearance. Talk about marketing strategy eh?
Right now, right now. Lets say what's hot and everyone wants.
Hey motorola, No one wants to tap on glossy touch sensitive buttons anymore. Since the announcement of the iphone last year, interactive nimble touch interfaces, cool classy layouts, are in heat. Where are your touch screen models motorola? Don't tell me you're too ego conscious to admit to the iphone trend. Even LG's doing it. Samsung scored well with the Omnia. Nokia's coming up. Well, i know little bout motorola models actually. But there's little advertisements on any latest touchscreen iphone-killer models.

Maybe motorola's not investing much in singapore? But they'r definitely losing their pioneerity.

Right why am i doing this?! I should well be mugging for econs. In 12 hours time haha.

==================================================

Right haha. Looks like i missed out the more impt part of your post on the ZN12 where symbian, 8mp and touch screen comes in. So most of my points up previous would be deemed invalid. Oh well, i shouldn't have boasted on my ignorance in motorola. But yeah. Still having doubts bout motorola hehe.

==================================================

What no fans for Motorola? Being the third place in the worldwide handphone sales, it proves Motorola still garners a serious significant following worldwide. And are you surprised to know that SE is actually a distant 5th worldwide? I can bet its about second in Singapore. It seems what we Singaporeans desire is slightly different than from the world.

I agree features and looks are the what people look for. Because they are the ONLY characteristics than can be quantified and felt to the general public. The features of most phones aren't that different, its the word of mouth that seems to carry the heavier weight. When some say Moto phones are hard to use, many people take it as that. I have personally encountered many such cases of people "spreading" such comments despite having never used a Moto phone. Not that I wanna help Moto advertise, I'm just saying the above in the spirit of fairness.

When you say "features people look out for",I take it to mean 3G, >3.2MP camera, pleasant user interfaces, and possibly Wifi. Its correct to say Moto phones seem to be behind the times. But you have to see the targeted market group. They are designed to be affordable for most people. Please lah, most people just use their phone to call, text and take pictures. Most of other features while nice to have, are frivolous with exception of Wifi. One probable reason is that being an American company, it targets phones for the large less tech-savvy segment of the American market. Public Wifi access is limited in most American small towns so it tends to emphasis on connectivity through 2.5G, EDGE or 3G.

Moto is slow in terms of the megapixel count. But ask any seasoned photo buff (like Yan Chao), the quantity of megapixels is only half the equation when it comes to quality phototaking. The other half is the imaging sensor and software processing. And Moto does better in the latter regards than given credit for. Taking my 2MP V3x and my brother's 1.3MP V3xx for examples, they have a specialised Nvidia Goforce 4800 chip utilised for processing pictures. This ZINE ZN5 uses a Kodak sensor and imaging technology. Read the online reviews, the 5MP photos taken are most probably better than your N95-1. I concur numbers win in advertising, but I'm the type that stress alot on the details and I feel Moto does a better job.

Software and open standards eh? I nearly fell out of my chair when I saw the accusations you levelled at Motorola. Motorola has been a firm supporter of the handphone open source community before it went famous with the Razr V3 series. Do you know the that Moto was the first to use Linux in its A760 smartphone in 2003? Currently, both the very familiar Rokr Z6 and Razr2 series run on linux. What about Symbian? My dream phones Rizr Z8 and Z10 already run on them. Their user friendliness are thus on par if not better than other phones now. All of these except the Z10 are already available in Singapore. I strongly suggest that you take a good look at their specs instead of blindly self-asssuming their downgraded features.

Nokia conversely does not plan to use Linux in its phones. Up to June this year, the Symbian OS was still closed-source until Nokia acquired it. This was suspected to be in response to growing defections away from Symbian to open source Linux, driven in part by Moto and other smartphone makers. I think you wrongly believed Symbian was open source all these while.

As for Java application compatibility. I'm aware of this problem which is also seriously affecting my phone's ability to play many java games. But its primarily due to Moto's strict adherence to Java standards that resulted in this situation. I can't explain this phenomenon without bringing in the example of Internet Explorer. Do you know IE7 and all IE versions before that are not compliant with guidelines set by the World Wide Web Consortium? While Mozilla Firefox and Opera insisted on abiding by this standard in the spirit of universal design compatibility. It may appear well on paper, but the reality is that many websites break (and continues to break) on Firefox and Opera because they are designed for IE's haphazard implementation of its own standard. Less-informed users than wrongly assume its Firefox and Opera which are not following the "web standard". The same can be said for Moto phones. Not that Nokia and SE implement a seperate standard, java programmers actually design programs solely for Nokia phones to save development costs. It happens that SE uses the same method of executing instructions. You did not mention Samsung phones. They too face the same java problems as Motorola. However, it seems that their targeted market group does not use much java programs.

You talk about touchscreens as if Moto does not have any. It has, the business smartphone Motoming A1120 is one example. It was released months before Apple's Iphone was announced. No models to compete with the Iphone in the pipeline? Here's where a little searching before you make that comment helps. Take a hard look at the Motorola Blaze in this review here. Tentative features are GPS, Bluetooth and 2MP camera. Dunno got WiFi anot. It may be late, but Nokia too has yet to release a model to compete with the Iphone as you hasv said. the upcoming ZN12 I stated earlier may not have a touchscreen, but it supercedes the Iphone 3G in all the other features. It will run on Linux like the ZN5 too.

No advertisements for Iphone-killers? Other than the Samsung Omina, do you see Nokia or SE doing the same even if they have their models ready? Its a serious overstatement to say Motorola does not take out advertisements in Singapore. Do you remember the release of the Razr2? It was accompanied by extensive advertisements in the print media. Going back to my ageing V3x, I still remember Moto taking out TV advertisements on it. I myself dun see so much of others in the TV and newspapers other than by the carriers. Dun talk about online advertising because I have seen all and none of them can afford not to do so.

I have to conclude this now. The length of this reply is actually as long as a post. But I hope I have addressed most of your misconceptions. The geekiest part of Moto phones is that they are the easiest to modify in both software and hardware. A whole community like the one at http://www.modymymoto.com is available for seasoned geeks and newcomers alike. You will be hard pressed to find a similar community for Nokia and SE that has such a large following.

==================================================