It was just
6 months ago
that I modded (geek speak for "modified") my Sandisk Sansa C240 MP3 player. Now, its long overdue to do the same for my phone. This post can be taken as a continuation for the
"handphones" post
last November.
Before I begin, let me give the reason why I chose to get a Motorola phone from the start. Since the Razr series, its one of the most moddable phones in the market. Software for modifying the firmware and creating skins are easily available on numerous forums and official sources like
Motodev
. I know some people simply detest Moto's user interface (UI). Well, all I can say is its a choice of personal preferences with the UI. I personally cannot tahan the UIs from Nokia and Sony Ericcson.
For this case, I chose the option totally replace the entire user interface, skins and more. The monster pack I selected was the highly popular HeartlessMOD@V3X v4 from
http://www.modmymoto.com
. The full set added features is so huge, I rather not list them down. Click on this link to find out
more
.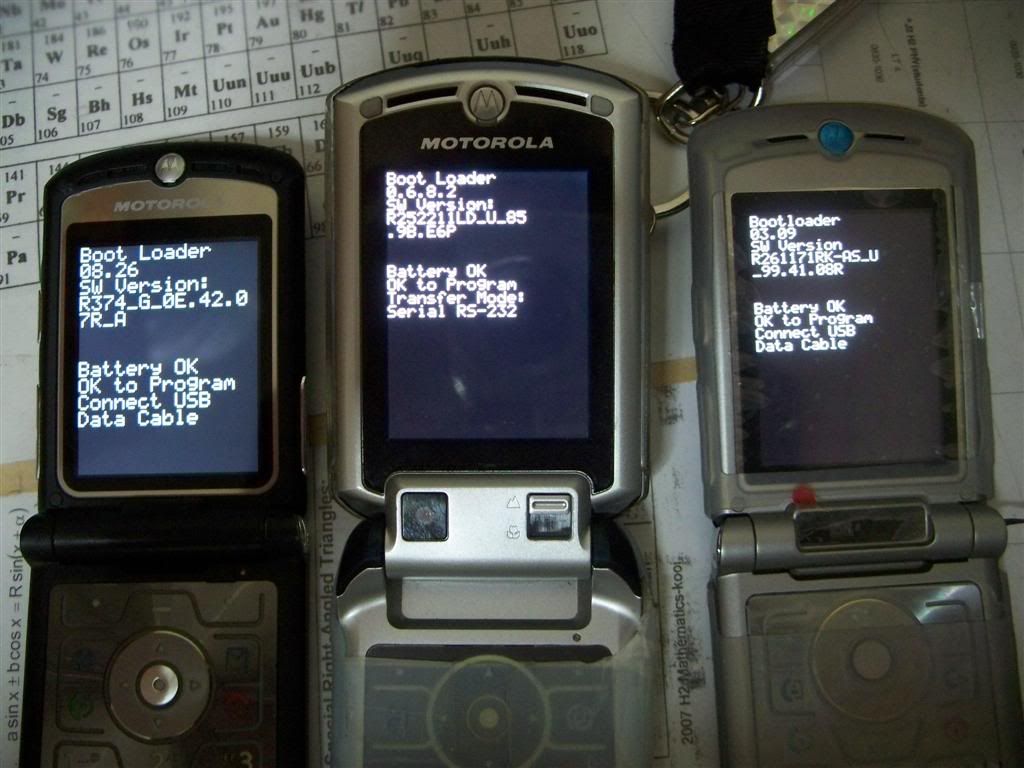 3 generations of the Razr series. From left. My father's V3 at left with 2.5G connectivity, my V3x with 3G and my bro's V3xx with 3.5G.
The phones are in flashable mode. Easily accessible by pressing the *, # and the power keys for most modern Moto phones. This indicates that the phone is ready to receive firmware data.
A close up view. The firmware version is shown. I'm guessing that the bootloader version indicates the phone's batch in the production schedule.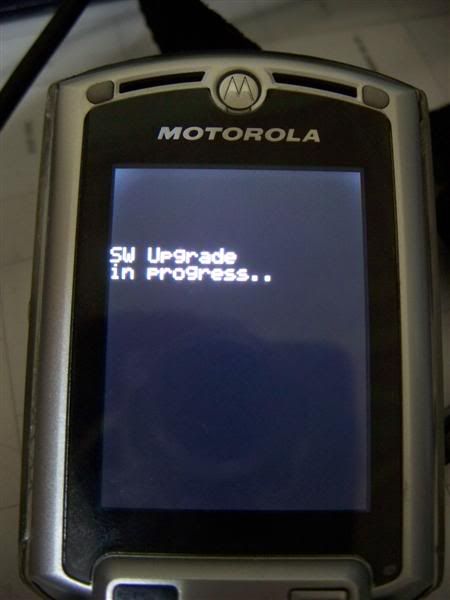 I was praying nothing would happen while the firmware was being overwritten. I cannot fathom what would befall me if I bricked my phone.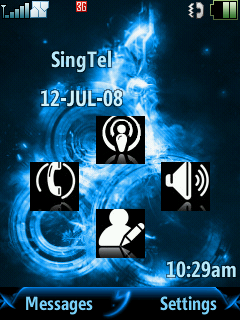 Tada! The new firmware sporting a new Heartless skin. This is a screenshot of my phone using the MSnap 0.2 software. The act of upgrading the firmware also removed all my phone contacts and SMSes. Messages not so important, luckily I saved my contacts on my SIM. There is no Chinese text support with this Russian firmware but thats a non-issue.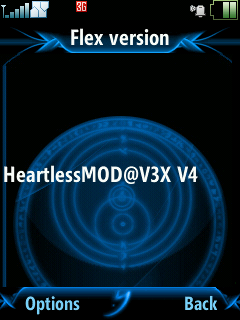 The flex shows the "carrier brand". Normally its flashed by Singtel in my case. But now its...
A Rainbow skin showing that the keypad has been locked. This is an added feature mostly missing in clamshell phones.
I tried another level of customisation. That is, to have the ability to make the phone
work
even
without the SIM card
.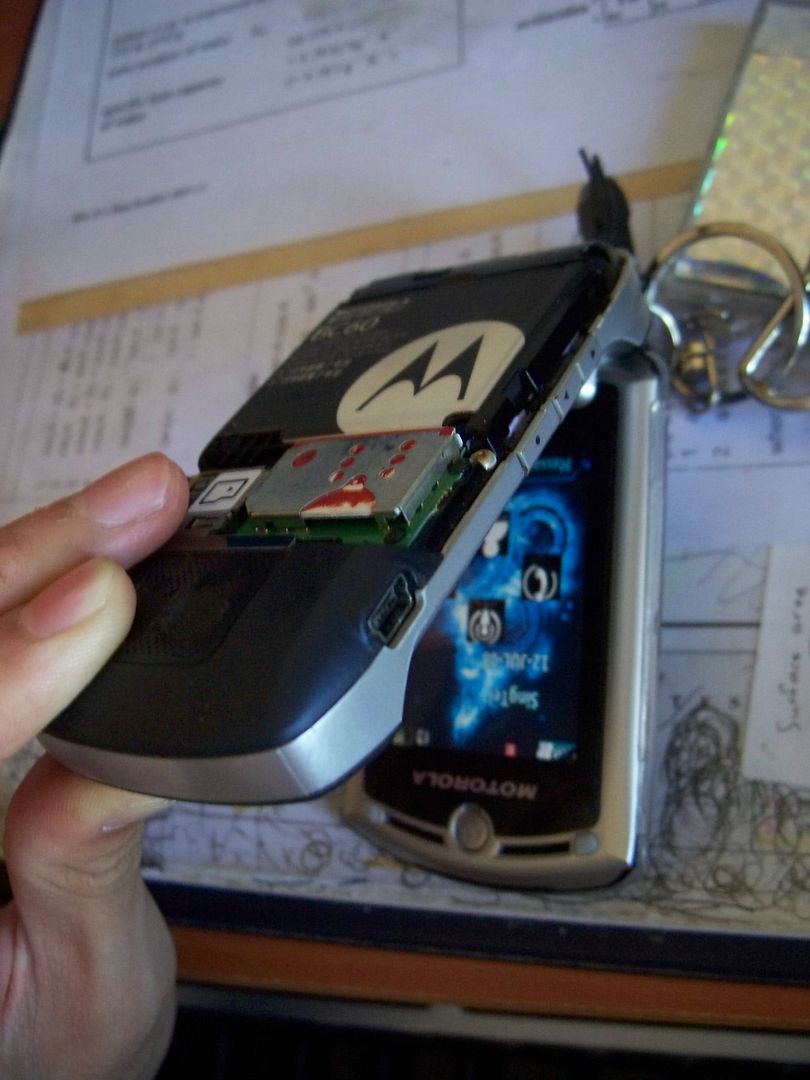 Notice the SIM card is in position.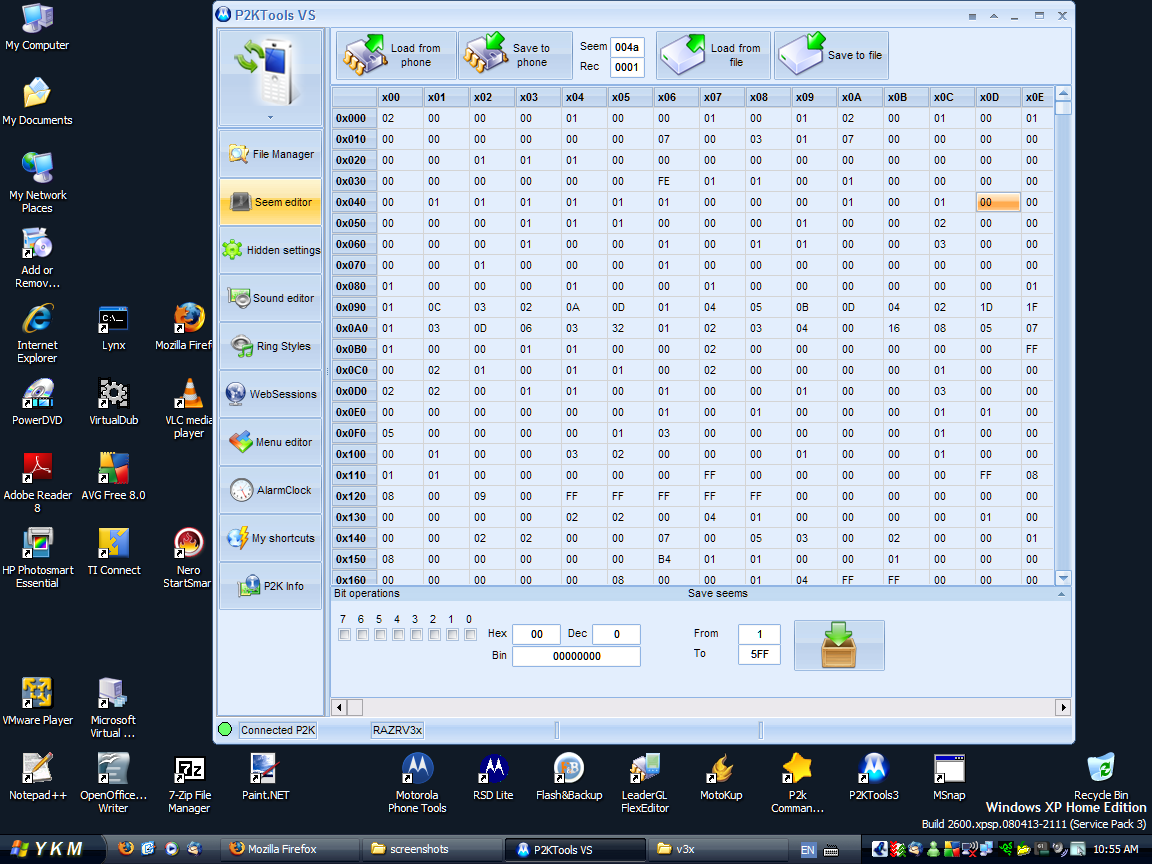 Playing around with the SEEM (some chim codes) settings. The variety of modding programs I tried is shown below on the desktop.
And its done! The phone cannot connect to the native Singtel network (only emergency calls allowed) without the SIM. But everything else is accessible. Did this for kicks, dunno what use for it. Its a solution looking for a problem!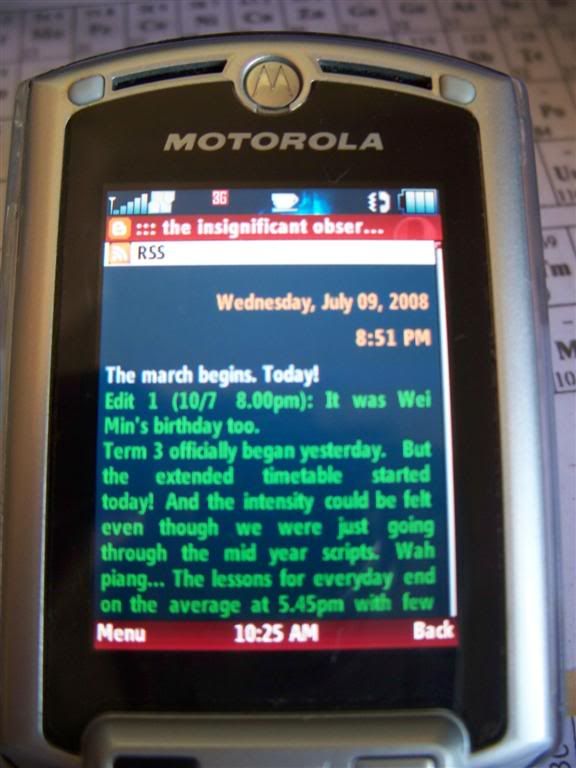 Opera Mini 4

is a really useful java program replacement to the internal web browsers of most phones. Its faster and renders webpages like my blog more accurately than those of cheaply written browsers. (Msnap seems to not able to take screenshots while java programs are running.) This program is a

must have

for anyone who routinely surfs the web on their phones.

Finally, to end off, I wanna make known that my phone is not as insignificant as it seems. It may surprise you that the Razr V3x won the

2006 Best 3GSM Handset

in the 3GSM World Conference in Barcelona.

So this ends it, my last playing around with my gadgets before the As.

Labels: Science and technology

Yup! I am still into this kind of stuff. And indeed, I used to carry 16 screwdrivers with me everyday. I stopped last year because of the weight it added with not much appreciable use.

As to time? I feel there is always time as long you make it so. When it comes to hobbies like that, I will always be able to find time for it no matter how tight my schedule is. But with the coming A's, I'm putting a temporary stop to it.

Thanks for the compliment! Its rare for people to comment about "such stuff" I post although they do read. :)

==================================================