I left a comment on your new blog.

==================================================

I recommend watching the original series of Star Trek and listening to the music and also I like Ghost In The Machine of the band The Police which has some great lyrics.

==================================================

I want a tablet. No cash to spare for an Ipad or a Galaxy Tab. So how about I make one? This is what this post is about. Interested??? Read more!

I bought this second-hand Thinkpad X60 some time back to complement my rather heavy T410. Using it mainly as a giant ebook reader and video player. Then I wondered, is there some way to hide the keyboard since I seldom use it. Hence, I made the leap with this machine and this blog post chronicled the progress Ive made.

This conversion made up of four parts.




Stage 1: Getting ready and introduction (21 Dec 2011)

Stage 2: Flipping the LCD (21 Dec 2011)

Stage 3: Installing the touchscreen overlay add-on panel (Future)

Stage 4: Create a proper LCD bezel (Future)

Ive turned the left to the right. (You can click images to view the full versions)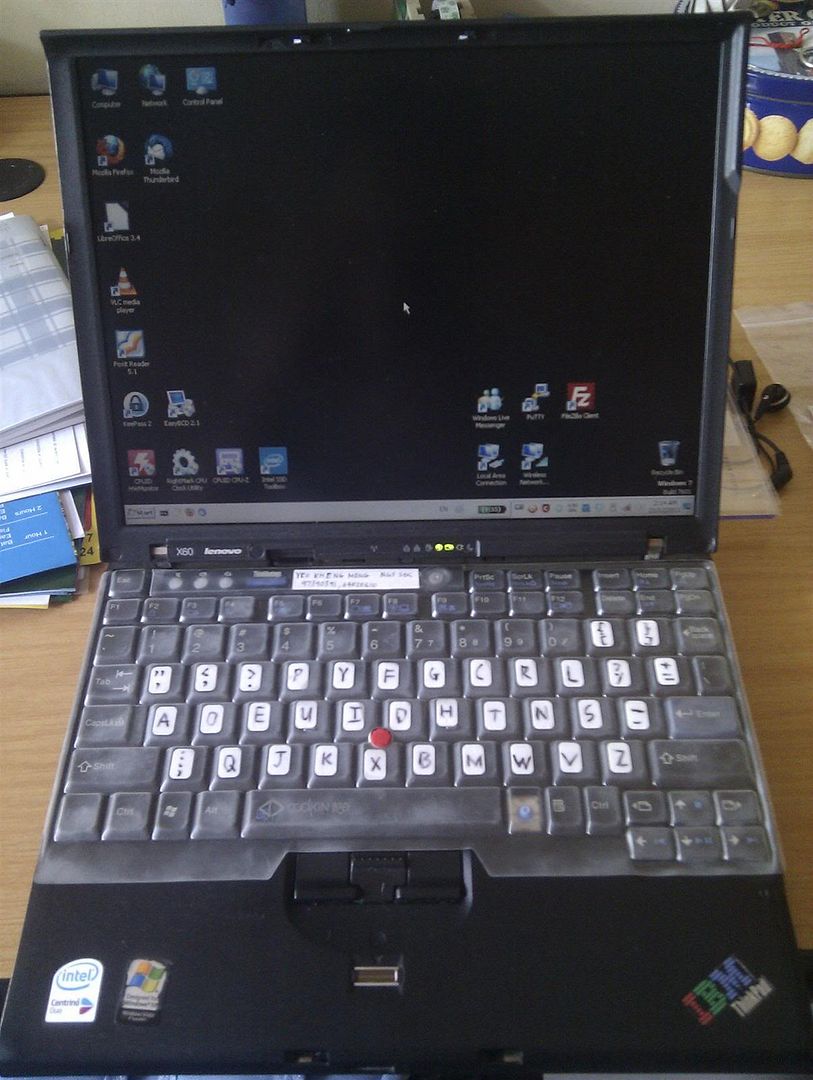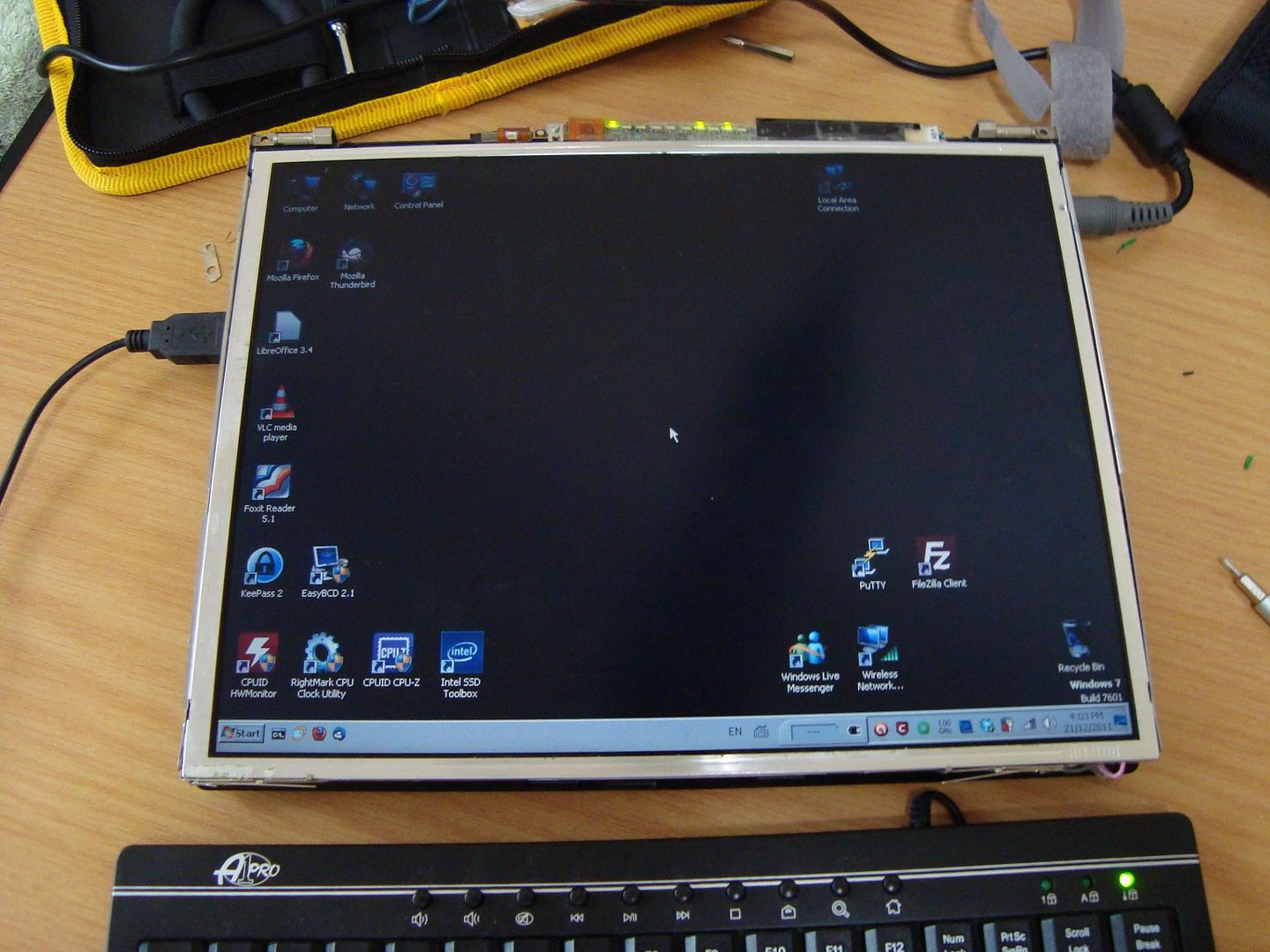 Before I begin, here are the specs for this early 2007 machine.
Intel Core 2 Duo T5500 1.66Ghz
Intel 945GM chipset
Intel 950 GMA graphics
2x2GB DDR2-667 RAM (only 3GB usable due to chipset limitation)
80GB Intel X.25M G2 SSD
12.1" 1024x768 LCD
Windows 7 Professional SP1 64bit and Lubuntu 11.10 32 bit
Not impressive by modern standards, but precisely expendable enough for such a project. So lets get the required stuff ready.
1. Functioning expendable laptop.
2. Manufacturer's hardware maintenance manual (HWM) if possible
3. Soldering iron
4. Some wires for cable extension
5. Multimeter to test for continuity
6. Touchscreen addon (for stage 3)
7. Proper bezel (for stage 4)
8. Saw if necessary (for stage 4)
For the X60 and many other Thinkpad laptops, IBM/Lenovo makes very good HWMs with step by step instructions. The X60's HWM is available
here
. Not sure for other manufacturers though.
So lets begin!
The main aim for this stage is to remove the LCD panel. As per the HWM, one has to remove all these parts in the correct order.
"1010 Battery pack" on page 60
"1050 Keyboard" on page 65
"1060 Upper case" on page 69
"1100 Wireless WAN PCI Express Mini card" on page 75
"1120 Wireless LAN PCI Express Mini card" on page 78
"1170 DC-in and RJ-11 connectors" on page 85
"1180 LCD assembly" on page 86
"2010 LCD bezel" on page 97
"2020 Inverter card" on page 100
"2030 Bluetooth daughter card" on page 101
"2040 LCD" on page 102
"2050 Wireless WAN retractable antenna" on page 105
"2060 Wireless WAN antenna cable (SPWG)" on page 106
"2070 Wireless LAN antenna cables (SPWG)" on page 107
"2080 Hinges" on page 109
Those stroked off parts are because either my X60 doesn't have them or are deemed unnecessary by me. Still alot of stuff though haha.
The battery, keyboard and upper case has been removed.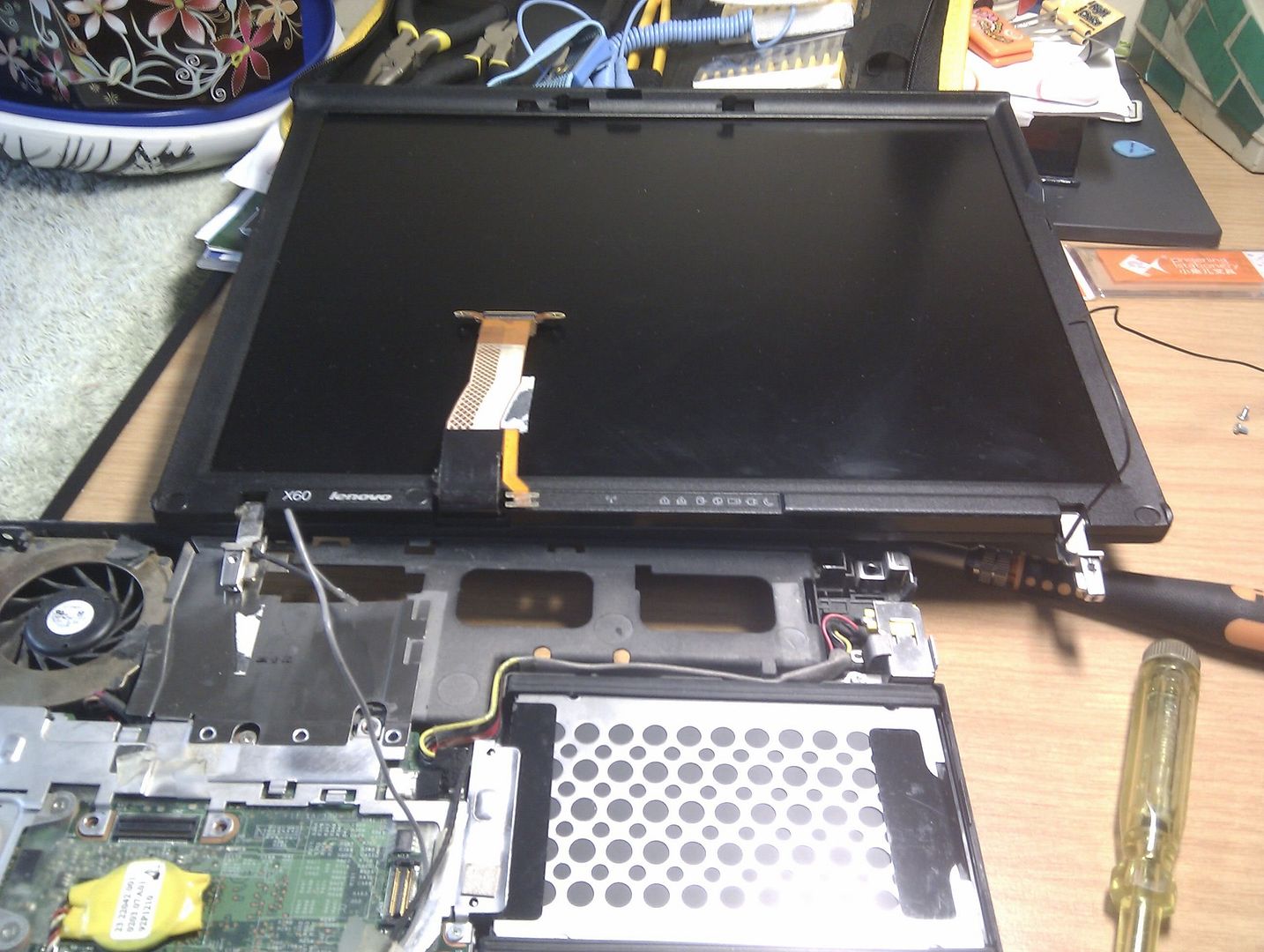 I've detached the LCD bezel from the lower case by unscrewing the hinges. Notice the Wireless LAN antenna cables snaking out from inside the hinges. I have to disconnect them from the WLAN card later. Also pay special attention to the off-centre disconnected video data cable. That is the most problematic part faced in the next stage.
Off goes the LCD bezel and inverter (Not shown in pic) leaving the bare LCD panel. The X60's inverter is a long strip of circuit board the contains that LED indicators located just below the LCD panel. The video data cable connects to it too.

Hinges are the next to go. Notice how they extend all the way to the top where they meet the WLAN antennas. Also another key concern later.

Theoretically speaking, this stage and the next could be as simple detaching the LCD from the lower case, rotate it like a tablet and attach the hinges back. However as you can see, the video data cable is off centre and is too short to be extended making the above option impossible.

Another issue is that the hinges in this X60 are not symmetrical. If you look closely at the second last picture, one of the hinges has a larger hook at the case connection point than the other. This difference forced me to remove the hinges for the LCD so they can remain at the current positions.

This ends Stage 1. Will start flipping the LCD in

stage 2

.

Labels: computers

Excellent goods from you, man. I've understood your stuff previous to and you are just extremely magnificent. I actually like what you've acquired here, really like what you are saying and the way in which you say it. You make it enjoyable and you still take care of to keep it smart. I can't wait to read far more from you. This is really a tremendous website. Recommended you read: Should Fixing Encryption Software Take Five Steps? & Times Are Changing: How To How To Encrypt A Password For Free New Skills.

==================================================

Hi, do you happen to have past year papers for LSM1302? If you dont mind, can you share them with me pls? I can be contacted at forrachel5@gmail.com. Thanks in advance.

==================================================